Energy giants Eni and BP have completed the previously announced creation of Azule Energy, combining all their oil, gas, and LNG interests in Angola.
The two firms announced the official establishment of the 50/50 joint venture in a statement on Tuesday.
According to the statement, the JV incorporation takes place after the pending conditions were met, among them having secured a third-party financing of $2.5 billion in the form of pre-export financing, and after receiving regulatory approvals.
Angola's largest independent equity producer
Azule Energy is now Angola's largest independent equity producer of oil and gas, holding 2 billion barrels equivalent of net resources and growing to about 250,000 barrels equivalent a day (boe/d) of equity oil and gas production over the next five years, the two firms said.
Moreover, it holds stakes in 16 licenses (of which 6 are exploration blocks) and a participation in Angola LNG.
Azule Energy is now the second-largest shareholder in the Angola LNG plant with a 27.2 percent share, while Chevron has a 36.4 percent operating stake.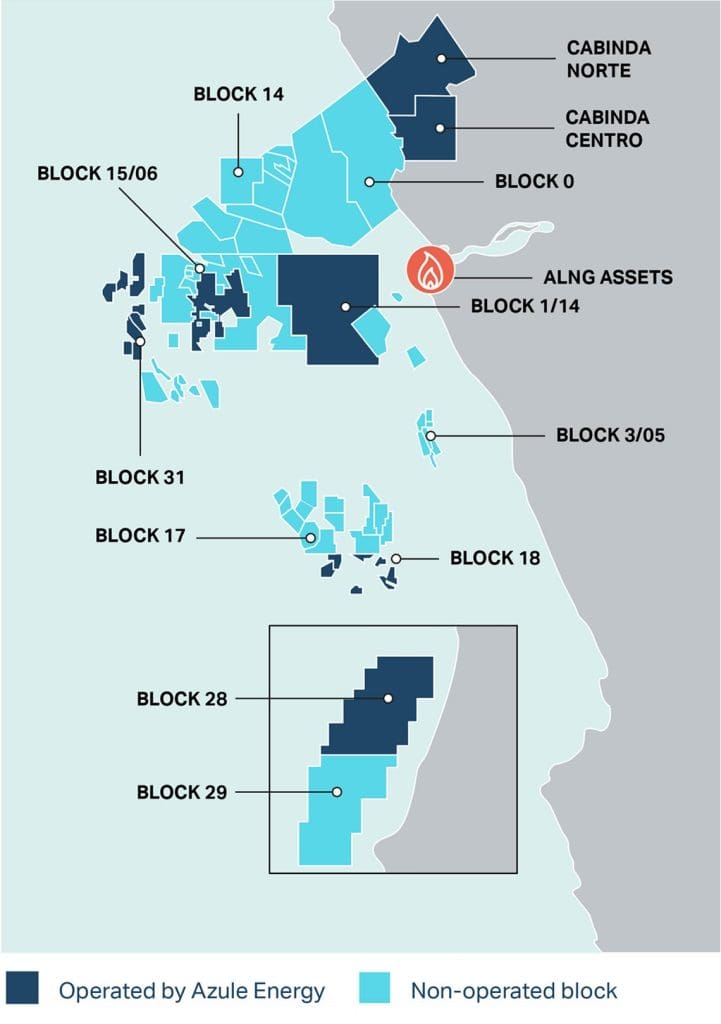 The JV "boasts a strong pipeline" of new projects that are scheduled to come on stream over the next few years, including the New Gas Consortium (NGC), the first non-associated gas project in the country.
To remind, Eni and its partners have recently taken a final investment decision on the Quiluma and Maboqueiro gas project, which will feed the Angola LNG export plant in Soyo.
Leadership
In addition, Azule Energy's leadership team draws on experience and expertise from both parent companies.
The leadership team will report to a six-person board comprising three BP and three Eni representatives, reflecting the ownership share of the company.
Adriano Mongini has taken over as CEO of Azule Energy, while all BP Angola and Eni Angola staff have joined the new company.