Croatia's FSRU-based Krk terminal has received a liquefied natural gas (LNG) cargo from Trinidad and Tobago's Point Fortin plant, according to shipping data.
A short statement by state-owned terminal operator LNG Croatia said the 2016-built 174,000-cbm, GasLog Gibraltar, arrived at the 140,000-cbm FSRU on May 27.
The LNG terminal operator said this is the 63rd LNG cargo for the FSRU since it started operations in January 2021.
According to its AIS data provided by VesselsValue, the LNG carrier, owned by GasLog Partners and chartered by Shell, delivered the cargo to the FSRU from Atlantic LNG's export plant in Point Fortin, Trinidad and Tobago.
Shell and BP are the largest shareholders in Atlantic LNG.
This is not the first cargo from Trinidad and Tobago for the Croatian FSRU. The unit received its first cargo from Trinidad in October 2021.
Earlier this year, the FSRU received a cargo from the Point Fortin plant onboard the 2015-built 170,200-cbm, Kool Boreas, owned by CoolCo and chartered by Shell.
Back in 2020, Shell signed a six-year deal with Hungary to supply the country with LNG via the Croatian terminal.
Hungary's MFGK and a unit Switzerland-based trading firm MET Group are some of the users of the facility.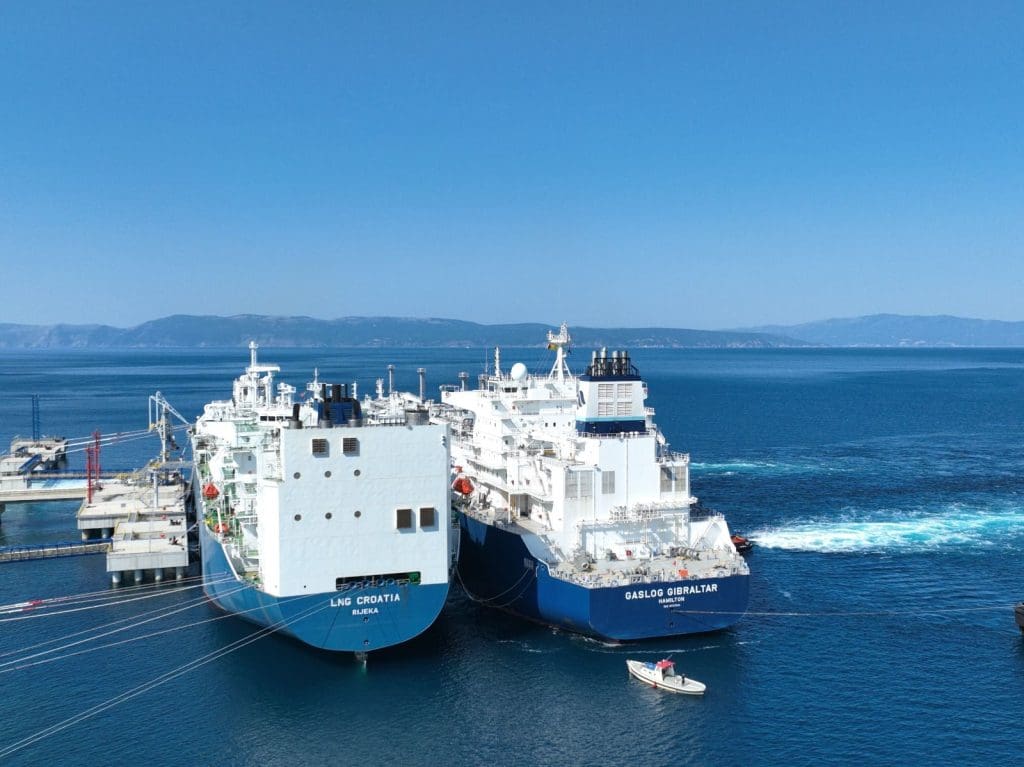 More capacity from 2025
From the start of commercial operations, the LNG terminal has regasified more than 8.3 million cubic meters of LNG and shipped more than 5 billion cubic meters of natural gas into the Croatian system, LNG Croatia said in a recent statement.
In the same period, the terminal supplied over 65 percent of all Croatia's natural gas requirements.
Also, in the current year, 20 LNG ships have already arrived at the terminal, and 11 more are expected to arrive by the end of the gas year, LNG Croatia said on May 19.
In April, Finland's Wartsila secured a contract to supply one regasification module for the FSRU LNG Croatia as part of Croatia's plans to boost the capacity of the Krk LNG terminal.
The contract is worth about 22.9 million euros ($24.6 million) and the the regas module will have a maximum capacity of 250,000 m3/h.
The current three LNG regasification units have a maximum regasification rate of 451,840 m3/h.
Following the upgrade, the FSRU-based facility will have a capacity of about 6.1 bcm per year.
LNG Croatia expects to offer additional capacities to the market from the gas year starting on October 1, 2025.