Delfin LNG, a unit of Delfin Midstream and the developer of a floating LNG export project in the Gulf of Mexico, has requested more time from US FERC to put into service the project's onshore facilities in Louisiana.
The firm revealed this in a letter to US FERC seeking an additional one-year extension to construct, operate and maintain certain onshore metering, compression, and piping facilities until September 2023.
The facilities would transport and deliver natural gas to Delfin's deepwater port in federal waters offshore Louisiana.
Delfin plans to install up to four self-propelled FLNG vessels that could produce up to 13 mtpa of LNG or 1.7 billion cubic feet per day of natural gas.
This is the fourth time Delfin has asked FERC for an extension to build the facilities.
However, this request follows a $3 billion long-term deal to supply liquefied natural gas to a unit of energy trader Vitol.
Under the SPA, Delfin will supply 0.5 million tonnes per annum on a free on-board (FOB) basis at its deepwater port to Vitol for a 15-year period.
In addition to the SPA, Vitol has completed a strategic investment in the company.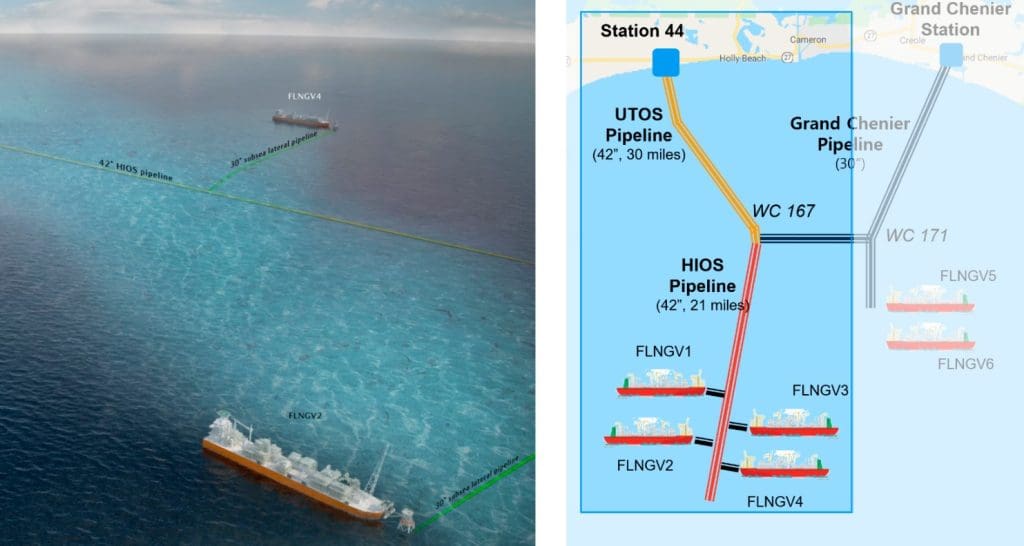 Besides the Vitol deal, Delfin has entered into term sheets or heads of agreement with other LNG off-takers.
The firm told FERC it expects to finalize these deals "soon".
In addition to this commercial progress, Delfin has completed FEED with Samsung Heavy Industries and Black & Veatch for the construction of the units. The firm has recently
conducted meetings with MARAD, and the US Coast Guard, concerning compliance with the
conditions of its deepwater port authorization as well.
As a modular project consisting of four separate floating LNG vessels, Delfin requires only 2 to 2.5 mtpa of long-term off-take contracts to support a final investment decision and begin construction of its project.
"Given all this significant progress, Delfin LNG is on schedule to make FID on its first FLNGV by the end of this year," it said.