Japan's Tokyo Gas, Osaka Gas, Toho Gas, and Mitsubishi have revealed plans to produce synthetic methane or e-methane in Texas or Louisiana, liquefy it at Sempra's Cameron LNG facility, and transport it to Japan.
In that regard, the four firms have entered into an agreement and started to conduct a detailed joint feasibility study on the project that would utilize other existing infrastructure, including LNG carriers to ship the fuel to receiving terminals in Japan, according to a statement by Mitsubishi.
The targeted e-methane production volume is 130,000 tons per year and the partners plan to start the project in 2030.
Also, this volume covers 1 percent of the total annual city gas demand of Tokyo Gas, Osaka Gas, Toho Gas combined, the statement said.
This project is in line with the Japanese government's goal to achieve carbon neutrality in 2050, Mitsubishi said.
Furthermore, e-methane can be transported via the "existing gas infrastructure and combusted in the present gas appliances without enormous costs of replacing or modifying them, which would be required to introduce other decarbonized gaseous energy carriers, such as hydrogen," it said.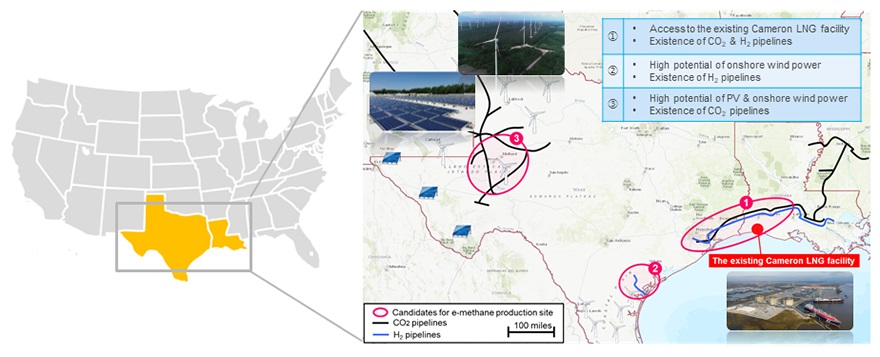 FID in 2025
The four companies now plan to start with onsite surveys for securing a project site and procuring feedstocks, namely renewable power, water, hydrogen and carbon dioxide, and initiate the discussions with relevant administrative authorities and industrial companies.
Moreover, the partners expect to finalize the detailed joint feasibility study by the end of fiscal year 2023 based on the results of onsite surveys and discussion on the rules and systems necessary for the development of e-methane supply chain.
The project aims for FEED entry in 2024, FID in 2025, first e-methane production in 2029, and the commencement of export to Japan in 2030, Mitsubishi said.
Mitsubishi already owns a stake in the Cameron LNG plant controlled by Sempra Infrastructure, a unit of Sempra, while other shareholders include Mitsui & Co., TotalEnergies, and NYK Line.
The plant currently has three trains and a capacity of 12 mtpa but Sempra and its partners are working one the Cameron LNG Phase 2 export project which includes building the fourth train with a capacity of about 6.75 mtpa.