Germany's MAN Energy Solutions has won a contract from US firm Matson Navigation to retrofit the main engine of one of the latter's containerships to be able to use LNG as fuel.
The vessel in question is the 3,600-teu LNG-ready, Daniel K. Inouye, built in 2018 by US-based Philly Shipyard and part of Matson's Aloha Class vessels.
Under the contract, MAN said its after-sales division, MAN PrimeServ, would retrofit the vessel's 7S90ME-C engine to an MAN 7S90ME-GI type capable of operating on LNG and fuel oil.
In addition, the contract includes an option for a second vessel.
As part of the retrofit solution, MAN will also provide a pump and vaporizer unit, which will be integrated into the vessel's fuel gas supply system (FGSS).
The PVU pressurizes LNG to 300 bar and vaporizes the liquefied fuel to gaseous form for supply to the main engine.
Post-retrofit, the containership is expected to continue to operate on trans-Pacific routes between the US West Coast and Asia from mid-2023.
MAN did not reveal the price tag of the contract.
Earlier this year, Singapore-based C-LNG Solutions won a contract from Matson to provide its LNG FGSS for the containership.
Under the contract, C-LNG will supply three 1350-cbm type C LNG fuel tanks with in-tank pumps and tank gauging system, low-pressure vaporizer and buffer tank, glycol-water system, and N2 system.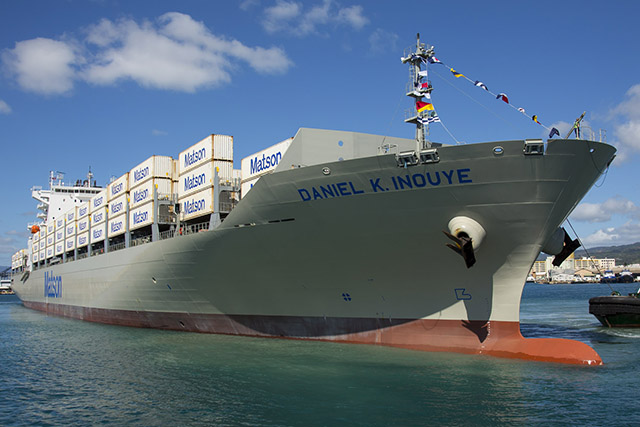 Matson says retrofit to cost about $35 million
Matson's finance chief Joel Wine said during the company's earnings call in May that the firm expects to invest about $35 million in the LNG installation on Daniel K. Inouye.
Wine did not reveal which yard would would host these works but he said that the firm expects the LNG installation to begin in the first quarter next year and to last roughly five months.
Following the completion of these works, the firm also plans to retrofit its vessel Manukai to be able to use LNG as well.
This project would last about 12 months and cost approximately $60 million, according to Wine.
He also said that the company continues to evaluate LNG installations for Kaimana Hila, Lurline, and Matsonia.
The total installation cost for all three of these vessels would reach about $115 million.
Besides these retrofits, Matson is also considering ordering three new LNG-ready Aloha Class vessels for the CLX.