Finland's Meyer Turku yard has delivered the second LNG-powered cruise ship to Carnival Cruise Line, a unit of Carnival Corporation.
The yard delivered the Excel-class ship Carnival Celebration during a ceremony held on Wednesday, according to a statement by Carnival.
Meyer Werft started building this vessel in January last year and held a coin ceremony in June this year.
Carnival expects this vessel to arrive at its homeport of PortMiami on November 20 after a 14-day transatlantic Journeys Cruise from Southampton, England.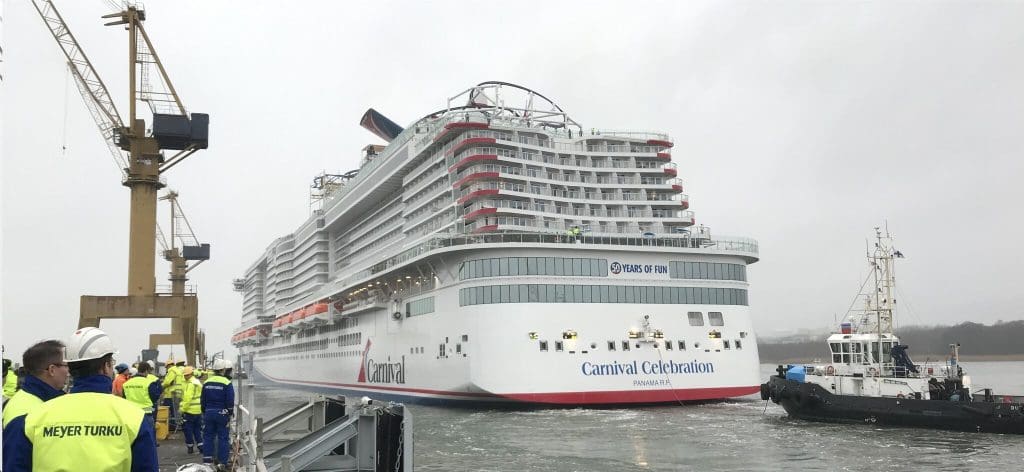 Carnival Celebration will accommodate more than 5,200 guests, expanding Carnival's overall capacity and adding a new option for guests sailing from Miami as it operates Eastern and Western Caribbean itineraries year-round.
The week-long voyages will visit destinations like San Juan, Puerto Rico, Cozumel, Mexico and Grand Turk.
Debuting from the redesigned Terminal F at PortMiami, Carnival Celebration will join sister Mardi Gras as the second Carnival ship in the fleet with a liquefied natural gas (LNG) propulsion system.
Mardi Gras entered service last year as the first ship in North America to run on an LNG propulsion system.
Besides these ships, Germany's Meyer Werft is building the LNG-powered Carnival Jubilee for Miami-based Carnival Cruise Line as well.
This Excel-class ship is set to enter service next year.