US LNG player New Fortress Energy is planning to book regasification capacity at Gasunie's new LNG import hub in the Dutch port of Eemshaven.
The new terminal with a capacity of about 8 bcm per year started delivering regasified LNG to the Dutch grid in September in record time as European countries look to slash reliance on Russian pipeline gas and boost energy security.
It consists of two chartered floating storage and regasification units or FSRUs.
The units include Exmar's 26,000-cbm barge-based FSRU Eemshaven LNG and the 170,000-cbm Energos Igloo, previously known as Golar Igloo. A joint venture of asset manager Apollo and NFE owns Energos Igloo.
Moreover, Shell booked 4 bcm while CEZ took 3 bcm of the Eemshaven terminal's total capacity. France's Engie secured the remaining 1 bcm of capacity.
Now Wes Edens-led NFE is looking to book capacity at the facility on top of the FSRU charter.
"We expect the EemsEnergyTerminal to increase LNG capacity in the near-term with NFE as a potential new capacity holder of re-gas slots," NFE said in its third-quarter results report.
The firm did not provide any additional information regarding the development in the report. NFE's executives also did not discuss this during the third-quarter call.
A spokeswoman for Gasunie told LNG Prime that the company does not comment on market-related queries.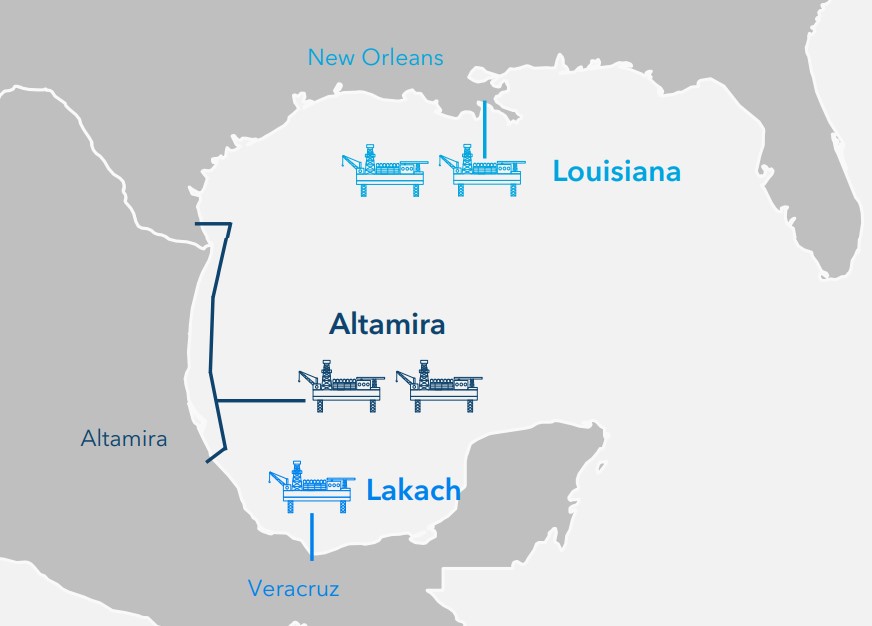 FLNG plans
NFE plans to install floating liquefaction facilities in the US Gulf of Mexico using its "Fast LNG" liquefaction design that incorporates modular, midsize liquefaction technology with jack up rigs or similar offshore infrastructure.
It also awarded FLNG contracts to Sembcorp Marine, Fluor, ECONNECT Energy, and others.
NFE currently plans to install five floating LNG producers in the Gulf of Mexico, including off Louisiana, Altamira, and Lakach, it said in the report.
Also, the firm expects its first Fast LNG to achieve mechanical completion in March 2023 and start operations by mid-2023.
NFE expects to complete other units during 2023-2024.
"Our Fast LNG units represent more than half of the world's expected incremental LNG supply in 2023-2024, and we expect will be utilized in the near term to address Europe's energy security issues," the firm said.
The company said it expects its five LNG units under development to add about 7 mtpa of new liquefaction capacity by the end of 2024 for a total LNG supply portfolio of some 9.5 mtpa.