Port Canaveral recently welcomed the Shell-chartered Q-LNG bunkering barge at "America's first LNG cruise port" but it will take a while for the arrival of Carnival's giant cruise ship.
To remind, Shell completed the first bunkering operation with Q-LNG 4000 as part of a long-term charter contract in January following delivery at the VT Halter Marine yard in Pascagoula.
After that, the first offshore LNG articulated tug and barge in America departed to the Florida cruise port, docking at the new cruise terminal 3, where it will, among others, fuel Carnival Cruise Line's Mardi Gras.
The barge will load LNG from a fuel distribution facility on Elba Island, Georgia.
"This project has been four years from concept to reality and we are excited to welcome the Q-LNG 4000 to fuel the next generation of cruise ships," said John Murray, Port Canaveral CEO.
"We have been working closely with our cruise partners, all the federal and state regulatory agencies, and industry leaders to promote this industry initiative," Murray said.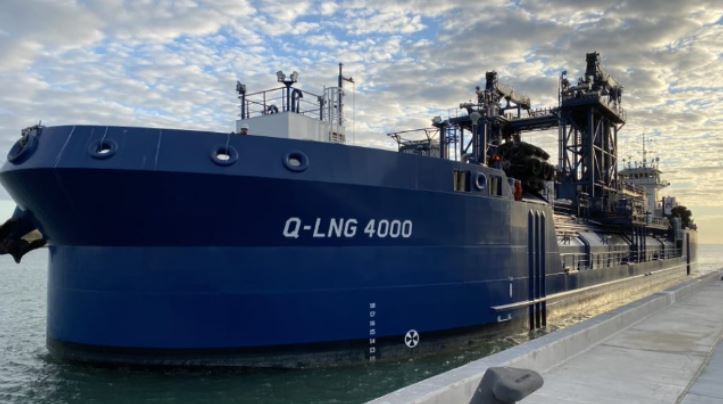 However, the first bunkering operations to Mardi Gras will wait for a while as the ship is still located in Barcelona, Spain. Carnival delayed its debut again to May due to the ongoing Covid-19 pandemic. The vessel should soon depart to Florida.
Carnival took delivery of this newbuild at Finland's Meyer Turku in December after the vessel bunkered LNG in Rotterdam, also by a Shell-chartered vessel, and then sailed to Barcelona.
In addition, Meyer Turku recently started building the sister vessel as well but this vessel should start sailing from Port Miami in November 2022.