US LNG player Sempra Infrastructure, a unit of Sempra, has completed the sale of a 42 percent non-controlling interest in its Port Arthur LNG Phase 1 project to compatriot private equity firm KKR.
Sempra Infrastructure took a final investment decision on March 20 for the first phase of its Port Arthur LNG export project worth about $13 billion.
The first phase of the Port Arthur LNG project will have two trains with a total capacity of about 13 million tonnes per annum and two storage tanks with a capacity of 160,000 cbm.
In March, Sempra Infrastructure said that it will sell an indirect, non-controlling interest in the project to an infrastructure fund managed by KKR.
Also, the firm said that KKR will acquire a 25 percent to 49 percent stake.
Sempra Infrastructure announced the completion of the 49 percent stake sale in a statement issued on Tuesday.
The transaction, which closed in accordance with the terms previously disclosed, results in Sempra Infrastructure retaining a controlling 28 percent indirect interest in Phase 1 at the project level, and ConocoPhillips owning the remaining 30 percent interest, the company said.
"The closing of this transaction continues the positive momentum of our world-class Port Arthur LNG facility and highlights Sempra Infrastructure's ability to access capital to support the growth of its infrastructure business," Justin Bird, CEO of Sempra Infrastructure, said.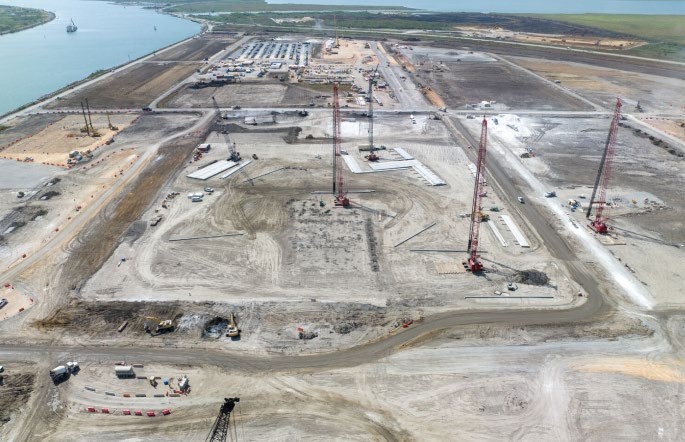 Construction moving forward
US engineering and construction giant Bechtel won the EPC contract for the first phase of the project.
Over 2.8 million hours of work have been completed since construction began this spring, with no lost-time incidents, Sempra Infrastructure said in the statement.
Sempra Infrastructure's unit Port Arthur LNG said in a recent monthly status report filed with FERC that construction-related activities during August included site clearing, grubbing, stripping, soil stabilization activities, dredging, piling, and maintenance of ECD's.
During September, Bechtel will continue with site preparation, soil stabilization, and pile driving activities, it said.
The first phase of the project is fully subscribed with 10.5 Mtpa under binding long-term agreements.
Sempra Infrastructure previously entered into long-term agreements with each of ConocoPhillips, Ineos, Engie, RWE, and PKN Orlen.
The expected commercial operation dates for Train 1 and Train 2 are 2027 and 2028, respectively.