Spark Commodities reported a new record high for its Atlantic spot LNG freight rate as the market tightens rapidly and companies in Europe look to secure the last remaining vessels ahead of winter.
"Another record high Spark30S Atlantic LNG freight rate of $374,000/day today, as the market tightens seasonally early," the Singapore-based firm said on Monday.
On the same date in 2019, the Atlantic rate reached $92,000 per day, while in 2020 and 2021 the rate reached $65,000 per day and 90,750 per day, respectfully, according to Spark.
Last week, the rate for a 160,000-cbm TFDE carrier hit new record high of $330,00/day, surpassing the previous record high from January 2021.
Several reports also said that Shell booked the 174,000-cbm LNG carrier, Yiannis, owned by Maran Gas, to load a US cargo at the end of October for delivery to Europe at a rate equivalent to $400,000 per day on a round-trip basis.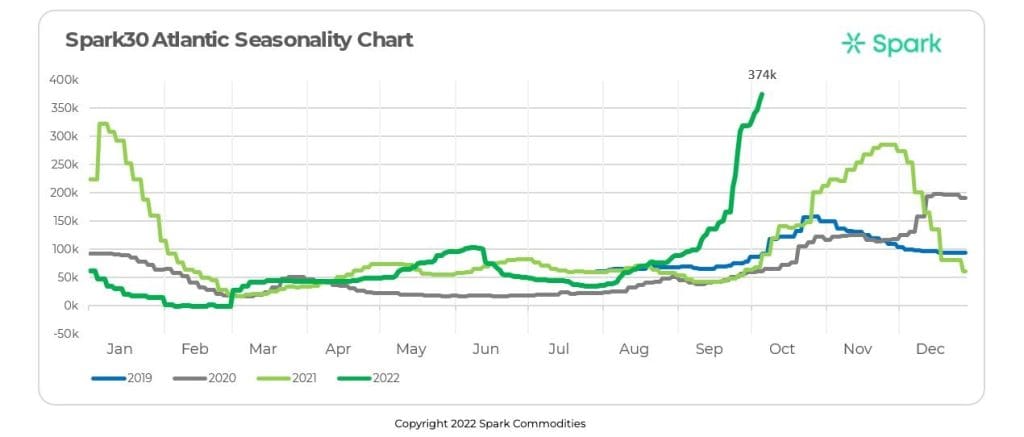 European countries have significantly increased imports of US LNG this year in order to diversify gas supplies and boost energy security.
Largest US LNG exporter Cheniere said it has sent about 70 percent of the volumes produced this year at its Sabine Pass and Corpus Christi plants to Europe.
Due to strong LNG supply, European prices fell on Monday. The Dutch TTF price reached 144 euros per MWh on Monday morning.
Spot LNG prices in Asia remain lower than in August or September. The JKM LNG price for November settled at $35.855 per million British thermal units on Friday.