Spot charter rates for the global liquefied natural gas (LNG) carrier fleet remained range bound this week, according to Spark Commodities.
Last week, Spark's Atlantic rate for 160,000-cbm TFDE carriers fell $2,250 per day week-on-week to reach $70,750 per day.
On the other hand, the rate on the Pacific Spark25 route fell $2,000 per day week-on-week to $69,250 per day, in the first weekly drop since May.
"LNG freight rates remained range bound this week, with the Spark30S Atlantic ending at $71,250 per day and the Spark25S Pacific at $69,750 per day," Henry Bennett, Spark's head of pricing, told LNG Prime on Friday.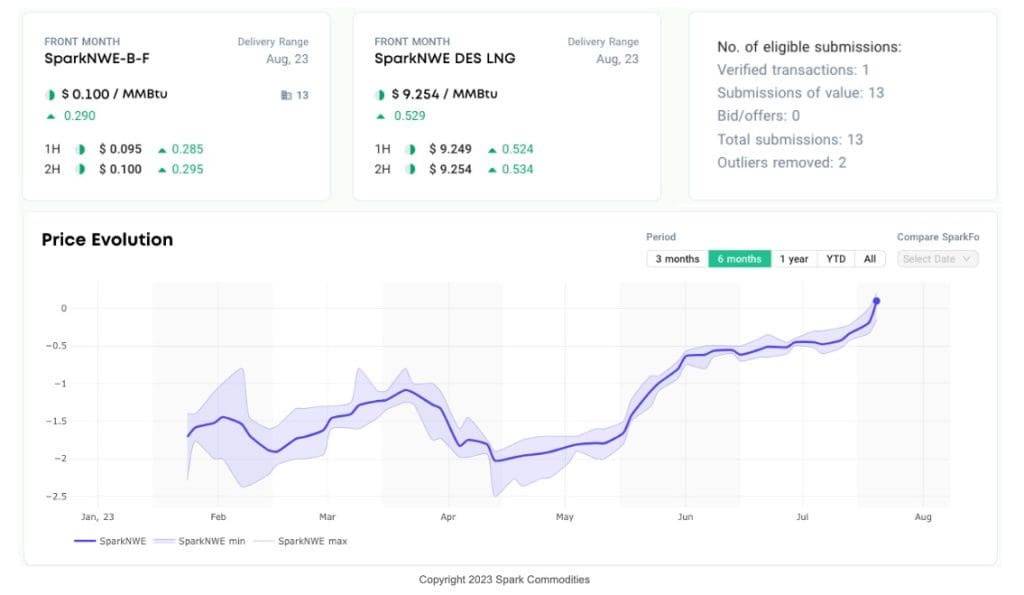 European buyers now have to bid higher for cargoes
Bennet said that the SparkNWE DES LNG for August deliveries moved to a premium to the TTF for first time in 18 months, marked at $9.254/MMBtu, a 10c premium, as the arb for US cargos to voyage to Asia remains open via the Panama and the Cape of Good Hope, forcing European buyers to bid higher to compete for cargos.
According to Bennet, most European regas is now unprofitable and slots may go unutilized.
The TTF price for September settled at $9.227 per MMBtu on Thursday, while the JKM spot LNG price for August settled at $10.920 per MMBtu.
State-owned Pakistan LNG said earlier this week that it received two offers for spot cargoes with delivery in January 2024 from commodity trader Trafigura.
Trafigura offered a price of $23.4711/MMBtu for the January 3-4 delivery and $22.4722/MMBtu for the February 23-24 delivery, the firm said.
This Trafigura offer is the first bid for spot LNG cargoes Pakistan received for its tenders in about a year as Europe took most of the available spot cargoes last year.