UK-based energy giant BP has shipped the first cargo of liquefied natural gas (LNG) produced by the new third liquefaction train at the Tangguh LNG facility in Indonesia.
BP announced on Thursday that the first LNG cargo will be delivered to Indonesia's state-owned power generator PT PLN (Persero).
The first cargo of LNG produced by the new train sailed from the Tangguh plant on October 18 to be delivered to PLN's regasification facility in Arun, Nanggroe Aceh Darussalam province, it said.
According to the image below posted by BP Indonesia, the 2004-built 138,267-cbm, Prima Concord, loaded the maiden LNG cargo from the third train.
This marks the start of full commercial operation of the expanded Tangguh LNG facility.
Moreover, the start-up of Tangguh Train 3 will add 3.8 million tonnes per annum (mtpa) of LNG production capacity to the existing two-train facility, bringing total plant capacity to 11.4 mtpa.
In addition to the new train, the Tangguh expansion project included construction of two offshore platforms, 13 new production wells, an LNG loading facility, and supporting infrastructure.
At its peak, more than 13,500 workers were involved in the project's development at the remote site, with a total of more than 155 million workhours spent to complete the project, BP said.
A joint venture of Italy's Saipem, Japan's Chiyoda, as well as Indonesia's Tripatra has handed over the third liquefaction train to BP on August 1.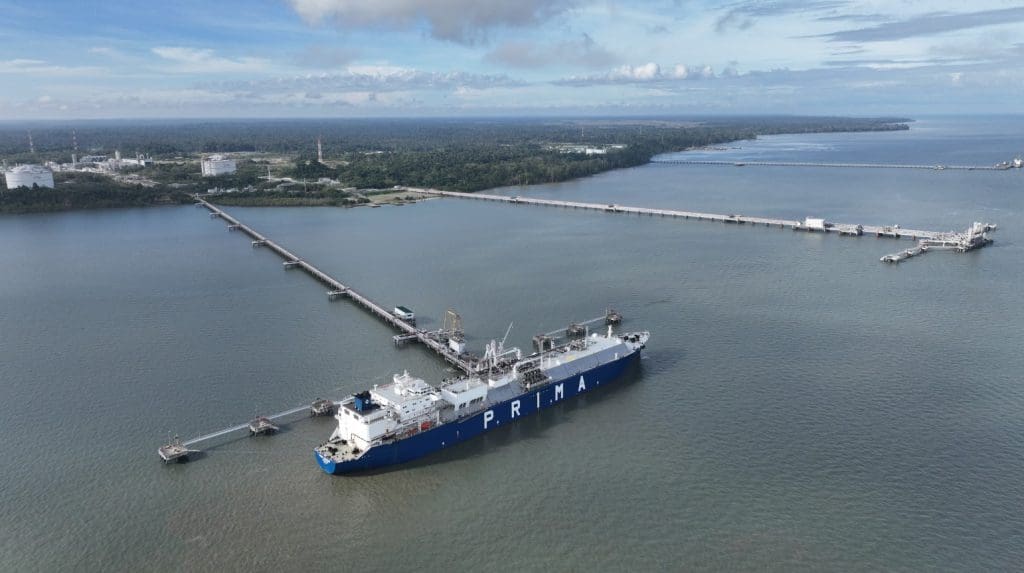 Over a third of Indonesian gas production
In December 2022, BP and its partners secured a 20-year extension for the Tangguh production sharing contract.
Under the deal signed with the Indonesian government, the Tangguh PSC, which consists of the Berau, Muturi, and Wiriagar PSCs, will be extended from 2035 to 2055.
Tangguh is the largest gas producing field in Indonesia, and supplies feed gas to the Tangguh LNG plant, which began operations in 2009.
Its production will reach 2.1 billion cubic feet (Bcf) per day of gas now that three LNG trains are online, according to BP.
The expanded Tangguh facility is expected to account for over a third of Indonesian gas production, BP said.
BP Berau and its affiliates in Indonesia hold a 40.22 percent interest in the Tangguh project.
Other Tangguh production sharing contract partners are MI Berau, CNOOC Muturi, Nippon Oil Exploration, KG Berau Petroleum, Indonesia Natural Gas Resources Muturi, as well as KG Wiriagar Petroleum.
Besides the expansion, BP is also working on a carbon capture utilization and storage project at the facility.
"With Train 3 completed and operational, the Tangguh partners are making progress towards next planned phase of development at Tangguh – the UCC project that includes the adoption of carbon capture utilization and storage (CCUS) technology to help reduce CO2 emissions," BP said.