China's state-owned energy giant CNOOC has completed the first operation with what it says is the world's largest liquefied natural gas (LNG) bunkering vessel.
CNOOC's gas and power unit said in a statement that the 30,000-cbm, Hai Yang Shi You 301, had completed the bunkering operation in the Yantian port in Shenzhen on January 18.
The LNG bunkering ship delivered about 6,000 cbm of LNG to the 23,000-teu CMA CGM Concorde during the operation, according to CNOOC Gas & Power.
CMA CGM took delivery of this giant LNG-powered containership, one of the nine ULCVs, from China's Hudong-Zhonghua in April 2021.
The LNG-powered giant features WinGD's dual-fuel engines as well as GTT's 18,600-cbm fuel tank.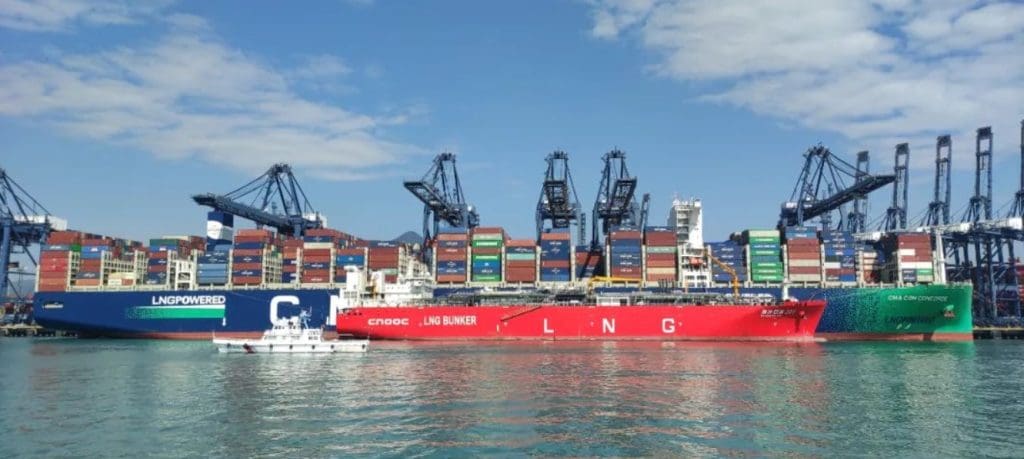 CNOOC Gas & Power said this LNG bunkering operation with Hai Yang Shi You 301 confirms the company's ability to provide LNG bunkering services for international ships.
In November last year, CSSC's Guangzhou Shipyard International (GSI) converted this 184.7 meters long LNG carrier with Wartsila DF engines and TGE Marine type C tanks to enable it to perform ship-to-ship LNG bunkering operations.
The converted vessel now has a capacity to deliver up to 1650 cubic meters of LNG per hour during an STS operation.
Besides the Yantian port, CNOOC Gas & Power said it plans to expand LNG bunkering operations to other ports in 2023, such as the Ningbo port and the Guangzhou port.
In November last year, state-owned energy giant CNPC completed the first ship-to-ship LNG bunkering operation with ENN's newbuild in the Yantian port.
With this move, the port in Shenzhen became the second port in China to provide ship-to-ship LNG bunkering services after Shanghai, where Hai Gang Wei Lai fuels CMA CGM vessels as well.