China's Zhoushan Changhong International Shipyard has officially started building two LNG-powered containerships for Switzerland-based shipping giant MSC.
According to a statement by Zhoushan Changhong, the shipbuilder held a steel-cutting ceremony on Tuesday for two 11,500-teu vessels, CHB 2027 and CHB 2028.
These are the first two LNG-powered vessels Zhoushan Changhong will build for MSC.
MSC first ordered ten LNG dual-fuel 11,500-teu vessels at the shipbuilder and after that added ten LNG dual-fuel 11,300-teu vessels.
CIMC ORIC, a unit of China International Marine Containers (CIMC), designed these containerships.
CIMC is a shareholder in Zhoushan Changhong via its leasing unit.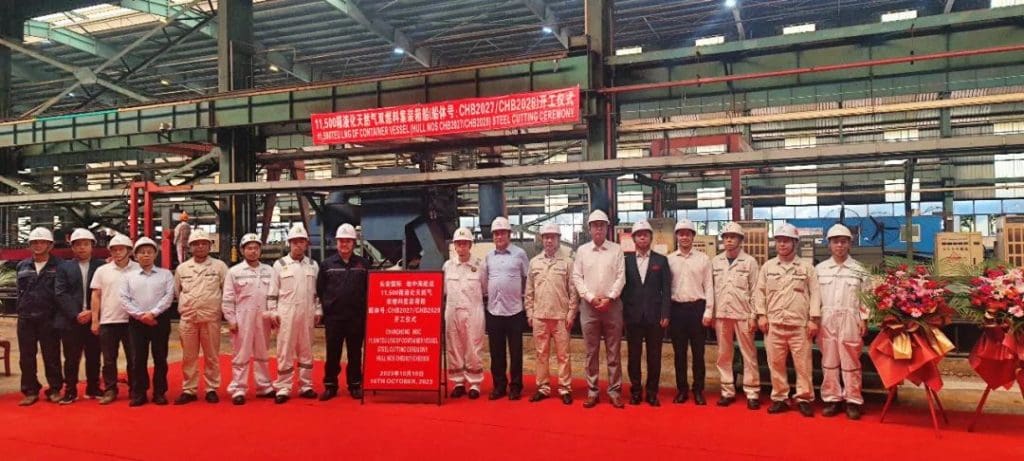 Zhoushan Changhong said that these two 335 meters long and 45.6 meters wide ships with a design speed of 20 knots will be classed by DNV.
CIMC previously said that these 11,500-teu vessels will feature the largest type C LNG fuel storage tank in its class, allowing them to complete a single round trip on China-Europe or China-US routes.
Zhoushan Changhong will deliver these vessels in 2025 and 2026 and the other ten ships during the second half of 2026 and 2027.