China Merchants Jinling Shipyard in Yangzhou has started building the first out of two LNG-powered chemical tankers for UK-based marine services provider James Fisher.
James Fisher Tankships, a shipping unit of James Fisher, said on Wednesday the yard held a steel-cutting ceremony for the LNG/dual-fuel 6,000-dwt chemical tanker.
The firm is working on the project in partnership with classification society Bureau Veritas, consultants Alpha Marine, and design house Shanghai Odely Marine Engineering.
James Fisher Tankships said it expects to take delivery of the vessel in late 2022.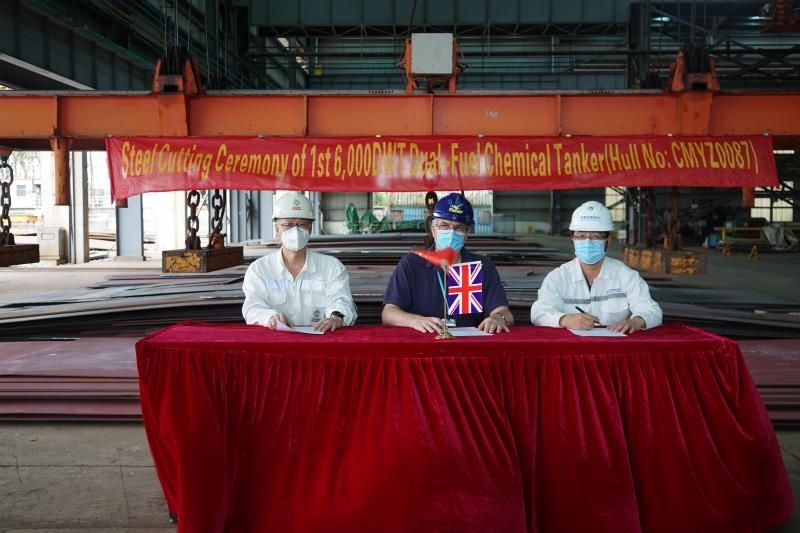 To remind, its parent James Fisher said earlier this year it would add two LNG-powered tankers to its capacity during 2022, as it looks to comply with the new IMO rules and slash emissions.
The firm said then that James Fisher Everard (JFE) would use the ships alongside its existing fleet.
James Fisher claims these dual-fuel IMO II tankers are the "first clean product tankers of this size to incorporate this emissions-reducing propulsion technology."
The vessels, specifically designed for ports with restricted access around the coastline of Northern Europe, would "enable JFE to better service existing long-term contracts," it said.
HHI-EMD, a unit of South Korea's Hyundai Heavy, also said earlier this year it had won a contract from James Fisher to supply HiMSEN 7H27DFP 2.1MW propulsion engines for the two vessels.