Chinese shipbuilder Nantong CIMC Sinopacific Offshore & Engineering has launched the first LNG dual-fuel liquid ethylene gas (LEG) carrier for German shipping group Hartmann.
According to a statement by CIMC SOE, the shipbuilder on Monday held the launching ceremony for the 7,200-cbm LEG carrier, GasChem Fuji.
This is the first of three vessels Hartmann ordered at CIMC SOE last year.
CIMC SOE said at the time that the DNV-classed vessels will feature MAN dual-fuel engines, but it did not provide further information regarding the engines.
Gaschem Fuji's images published by CIMC SOE on Monday show that the vessel will be powered by LNG.
This is the case with the two other sister ships and the vessels are expected to be delivered in 2024, according to the website of GasChem Services, a part of Hartmann.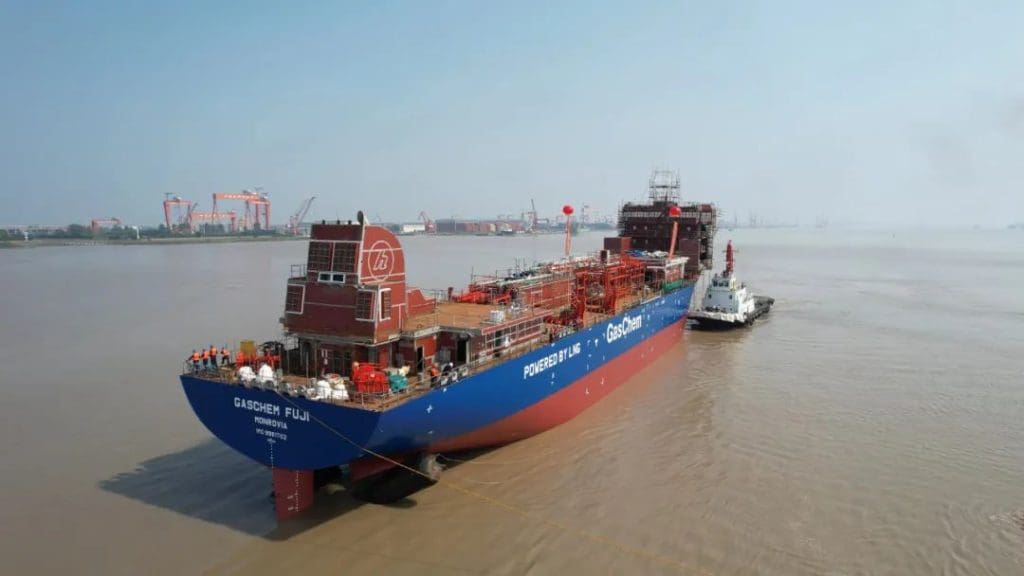 CIMC SOE said that GasChem Fuji is about 116 meters long and 18 meters wide.
Also, the LEG carrier has a design draft of 7 meters and a deadweight of about 6,300 tons.
Leer-based and family-owned Hartmann already took delivery of three dual-fuel LPG carriers from CIMC SOE.
These vessels serve Australia's Origin Energy under charter deals.
They feature MAN's 5S35 ME-LGIP dual-fuel main engine that operates on LPG and MGO.
The design of the vessels is based on the Ecostar 36k series such as GasChem Beluga, also built by CIMC SOE.
Hartmann developed this design together with compatriot HB Hunte Engineering, such as the 3,500 TEU LNG-powered container vessels.
Hartmann operates a fleet of more than 150 vessels and these include gas carriers, containerships, and multi-purpose vessels, according to its website.