French shipping giant CMA CGM is joining forces with China's terminal operator Shanghai International Port (SIPG) to fuel its LNG-powered container vessels.
In that regard, the two firms have signed a framework agreement on the marine LNG bunkering project in Shanghai Port, CMA CGM's unit in China said in a statement.
CMA CGM's chief Rodolphe Saadé and Gu Jinshan, Chairman of SIPG, signed the agreement on Wednesday.
Under the deal, SIPG would fuel CMA CGM's 15,000 TEU vessels with a new 20,000-cbm LNG bunkering vessel in Yangshan Port, the statement said.
CMA CGM did not provide any further information regarding the bunkering ship.
Avenir LNG has recently taken delivery of the 20,000-cbm Avenir Allegiance, the world's largest LNG bunkering ship, from China's CIMC SOE.
The small-scale player is currently the only owner with two 20,000-cbm bunkering and supply ships. The second vessel, Avenir Achievement, will go on a charter to Shell.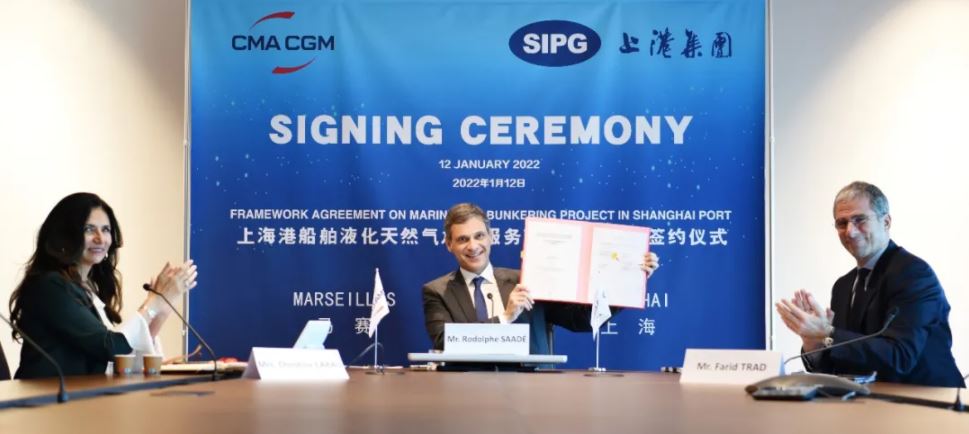 First LNG bunkering service
CMA CGM's 15,000 TEU vessels in question will serve its Pearl River Express (PRX) line, which sails from China to the Port of Los Angeles. The shipping line previously said it would dedicate six LNG-powered containerships to the US market.
It expects these ships to be operational by the end of this year.
SIPG would start fueling the vessels in the first quarter and continue for a period of ten years, the statement said.
The ship-to-ship LNG bunkering service is a first for Shanghai Port and the first in Chinese ports as well, according to CMA CGM.
CMA CGM is heavily investing in LNG as fuel and expects to have at least 44 LNG-powered ships in its fleet by 2024.