A unit of China National Offshore Oil Company (CNOOC) is moving forward with construction work on five giant tanks at its Zhuhai LNG import terminal in Guangdong.
According to a statement by CNOOC Gas & Power, the company completed the main structure of all of the five tanks in about 18 months, including dome concrete pouring operations.
These 65.7 meters high tanks are part of the expansion phase of CNOOC's Jinwan "Green Energy Port" in Zhuhai, which includes in total five 270,000-cbm LNG tanks.
CNOOC Gas & Power claims these are the world's largest onshore LNG storage tanks by capacity, such as those six at CNOOC's Jiangsu-Binhai LNG terminal.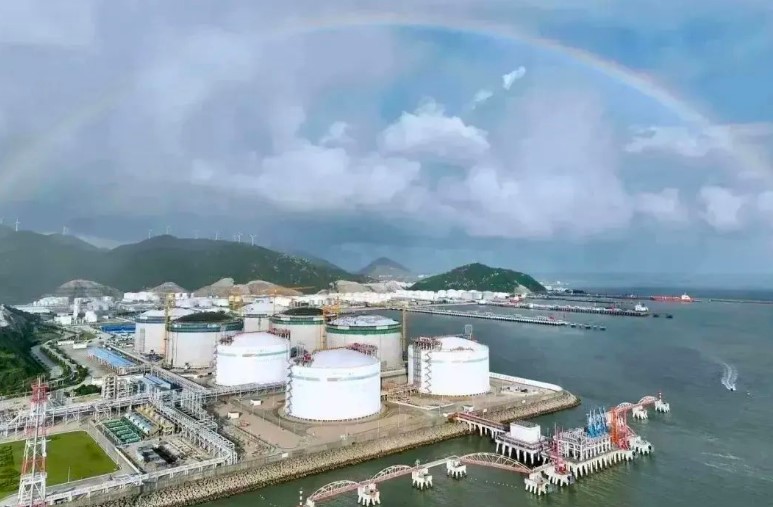 Besides adding the five giant tanks, the Zhuhai LNG Phase II project will double the regasification capacity of the terminal to 7 mtpa.
CNOOC expects to launch the second phase in 2024.
The Zhuhai facility currently has three LNG storage tanks with each having a capacity of 160,000 cbm and a regasification capacity of 3.5 mtpa.
Earlier this year, the terminal received its 300th cargo of LNG since 2013 for total volume of 20.3 million tons, equivalent to 28 billion cubic meters of natural gas, providing a "strong clean energy support" for the Guangdong-Hong Kong-Macao Greater Bay Area, CNOOC said.