Eni's Coral Sul FLNG has departed Samsung Heavy Industries' Geoje yard in South Korea and the unit is on its way to Mozambique.
Samsung Heavy held the naming ceremony for the FLNG yesterday. It also said the unit would depart from the Geoye yard on Tuesday.
VesselsValue data shows the FLNG is on its way to Mozambique where it is expected to arrive in early January.
As previously reported, ALP Maritime's vessels ALP Sweeper, ALP Keeper, and ALP Striker are towing the FLNG to Mozambique.
The TJS consortium, consisting of Technip Energies, JGC Corp, and Samsung, built the unit for Eni, the first floating LNG facility ever to be deployed in the deep waters of the African continent.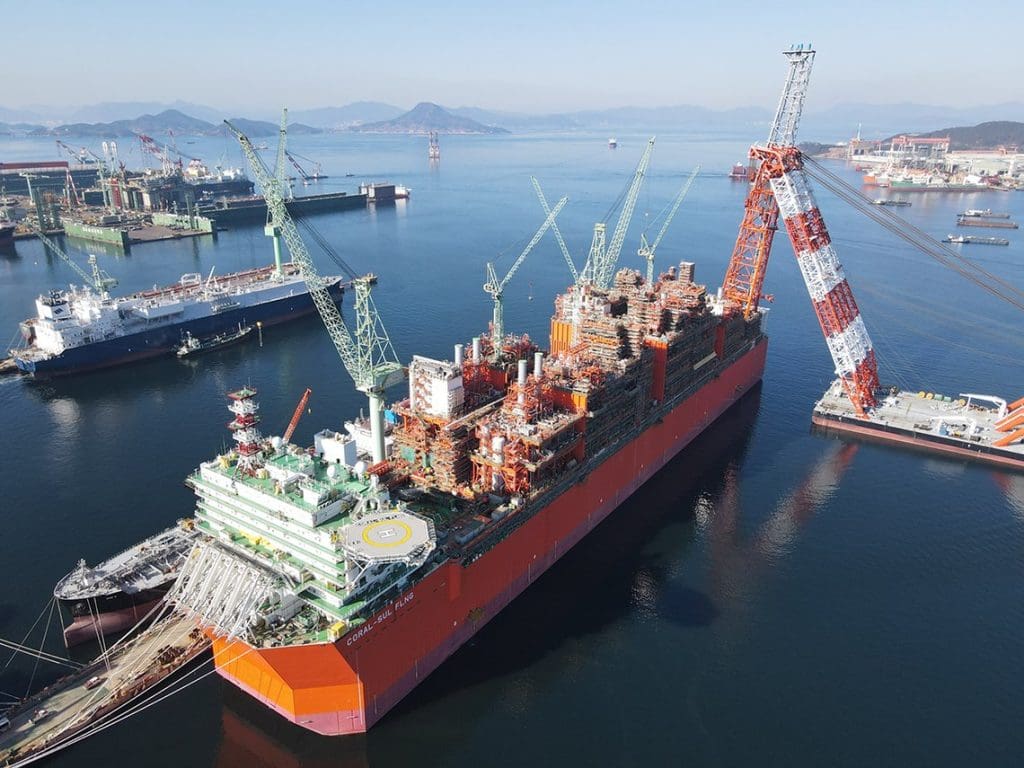 The unit is 432 meters long and 66 meters wide and weighs about 220,000 tons.
Following arrival offshore Mozambique, the FLNG will receive fuel from the Coral gas field in the Area 4 of the Rovuma Basin. BP will buy all of the LNG produced at the unit as part of a long-term deal.
The Italian firm expects to launch production in the second half of 2022.
Eni Rovuma Basin operates the Coral Sul (South) project on behalf of the Area 4 partners.
These include Mozambique Rovuma Venture, a firm owned by Eni, ExxonMobil and CNPC, Galp, Kogas and Empresa Nacional de Hidrocarbonetos.
The project is based on six ultra-deepwater wells in the Coral field, at a water depth of around 2,000 meters.
Eni discovered the field back in May 2012 and the field has about 16 Tcf of gas in place.