Cosco Shipping Heavy Industry in Shanghai is moving forward with conversion work on the 2002-built vessel, Etyfa Prometheas, previously known as Galea. This converted FSRU will serve the first Cyprus LNG import terminal in Vasilikos.
The unit of Cosco Shipping said in a statement that it has recently completed the lifting of the regasification module and the compressor module on the 135,000-cbm vessel, and the ship entered the dry dock for the second time.
According to Cosco Shipping Heavy Industry, work on the FSRU has now entered the final stage.
Cosco Shipping Heavy Industry will now work on painting the FSRU, stern assembly, and other projects to prepare it for trials.
It expects to complete these works in early March and to start the commissioning phase.
Cosco Shipping Heavy Industry did not say when it plans to deliver the converted FSRU.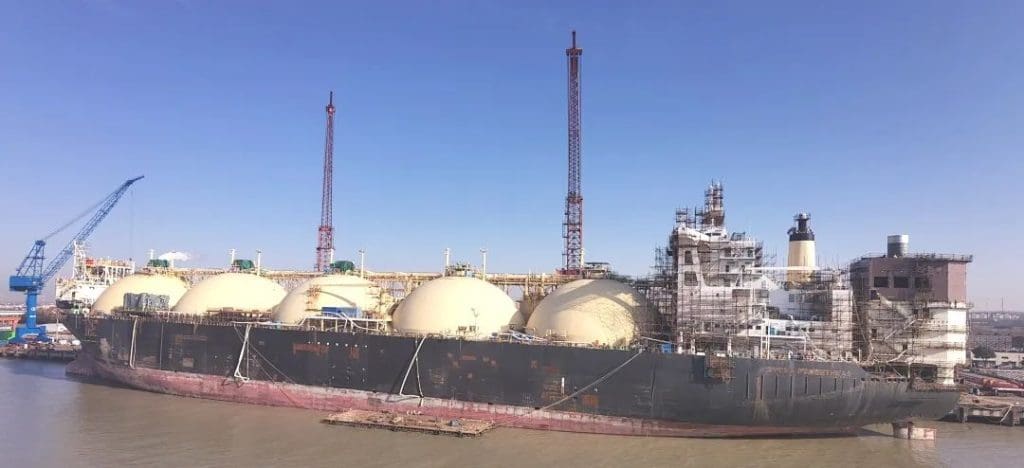 First LNG import facility for Cyprus
Cyprus announced the start of construction of its first LNG import facility at Vassilikos in July 2020.
It has a price tag of more than 290 million euros ($309 million), of which the European Union is funding 101 million euros through its Connecting Europe Facility.
Also, the project includes the converted FSRU, mooring facilities, a pipeline, and other onshore and offshore related infrastructure.
The converted FSRU will be moored alongside a purpose-built jetty at the import terminal in Vassilikos.
From there, gas will be piped to shoreside infrastructure with links to the country's energy grid mainly for power generation purposes.
The Natural Gas Infrastructure Company (ETYFA), a unit of DEFA, previously signed an EPCOM (engineer, procure, construct, operate, and maintain) contract with a consortium for the project.
The consortium comprises of state-owned China Petroleum Pipeline Engineering, a unit of CNPC, Metron Energy Applications, Hudong Zhonghua, and Wilhelmsen Ship Management.
US-based Hill International also said in 2020 it secured a contract for the first Cyprus LNG import terminal at Vassilikos to provide owner's engineer services.
Project delayed
ETYFA previously expected to launch the LNG import project for power generation in summer 2022.
However, it seems that delays related to the Covid-19 pandemic affected the timeline of the project.
GIIGNL data shows that the project is now expected to go online this year.
Recent local media reports suggest that the contractors expect to complete the project in July of this year.