Eastern Pacific Shipping has officially handed over the world's first LNG-powered Newcastlemax bulk carrier to Australian miner BHP in Singapore.
As previously reported by LNG Prime, China's Shanghai Waigaoqiao Shipbuilding delivered the 209,000-dwt Mount Tourmaline to EPS last month.
The bulk carrier will transport iron ore between Western Australia and Asia. Idan Ofer's EPS and BHP signed the charter deal for this and four other LNG-powered Newcastlemax bulk carriers in 2020.
After that, BHP also awarded the LNG fuel contract to Shell.
On its maiden voyage, the 300 meters long Mount Tourmaline arrived at Jurong Port in Singapore for its first LNG bunkering operation, BHP said in a statement on Monday.
BHP, EPS, Shell, and FueLNG, a joint venture between Shell and Keppel Offshore & Marine, also hosted a welcoming ceremony for the newbuild.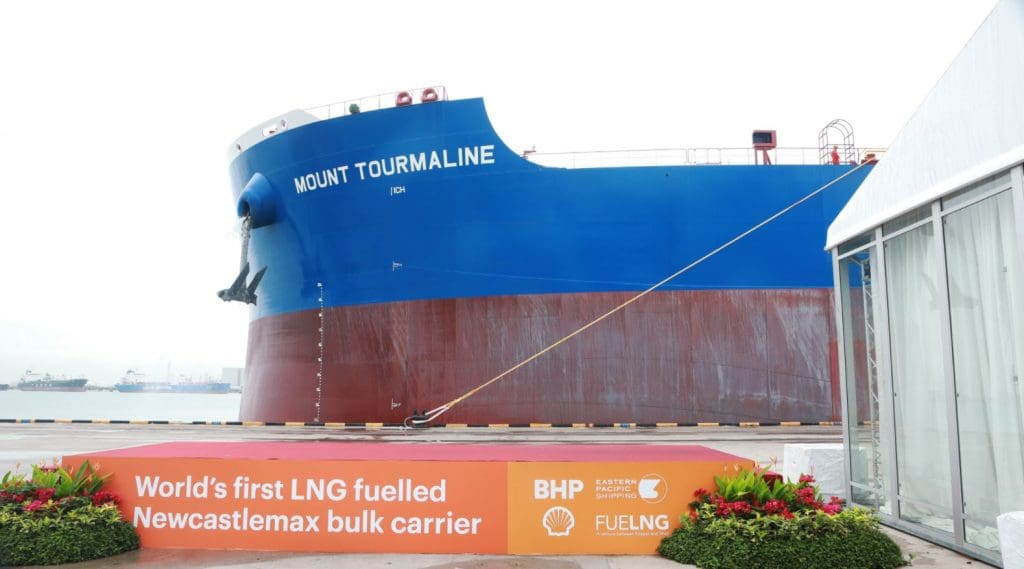 Singapore's first LNG bunker vessel, FueLNG Bellina, will provide fuel to the newbuild.
After LNG bunkering, the 209,000-dwt vessel would leave for Port Hedland in Western Australia for iron ore loading operations, BHP said.
Vandita Pant, chief commercial officer of BHP, said the firm expects these LNG-fueled vessels to reduce GHG emissions intensity by more than 30 percent on a per voyage basis compared to a conventional fuelled voyage.
In addition, they would, "contribute towards our 2030 goal to support 40 percent emissions intensity reduction of BHP-chartered shipping of our products," Pant said.
"Today's historic LNG bunkering is further evidence that the industry's energy transition is in full swing. These dual-fuel LNG Newcastlemax vessels are a world's first, but more importantly, they represent a culture shift in shipping and mining," EPS CEO, Cyril Ducau, said.