China's Huarun Dadong yard is moving forward with conversion works on Hapag-Lloyd's ultra-large containership Sajir and it completed lifting a 6,500-cbm LNG fuel tank onboard the vessel.
Following three days of continuous works, Huarun Dadong placed the 1,300-tonne GTT LNG tank onboard the ship using a giant floating crane on September 26.
To remind, the 15,000 TEU vessel arrived at the Shanghai yard on August 31 for the works including the tank installation.
Hapag-Lloyd claims the conversion is the first ever retrofit of a large containership to LNG fuel.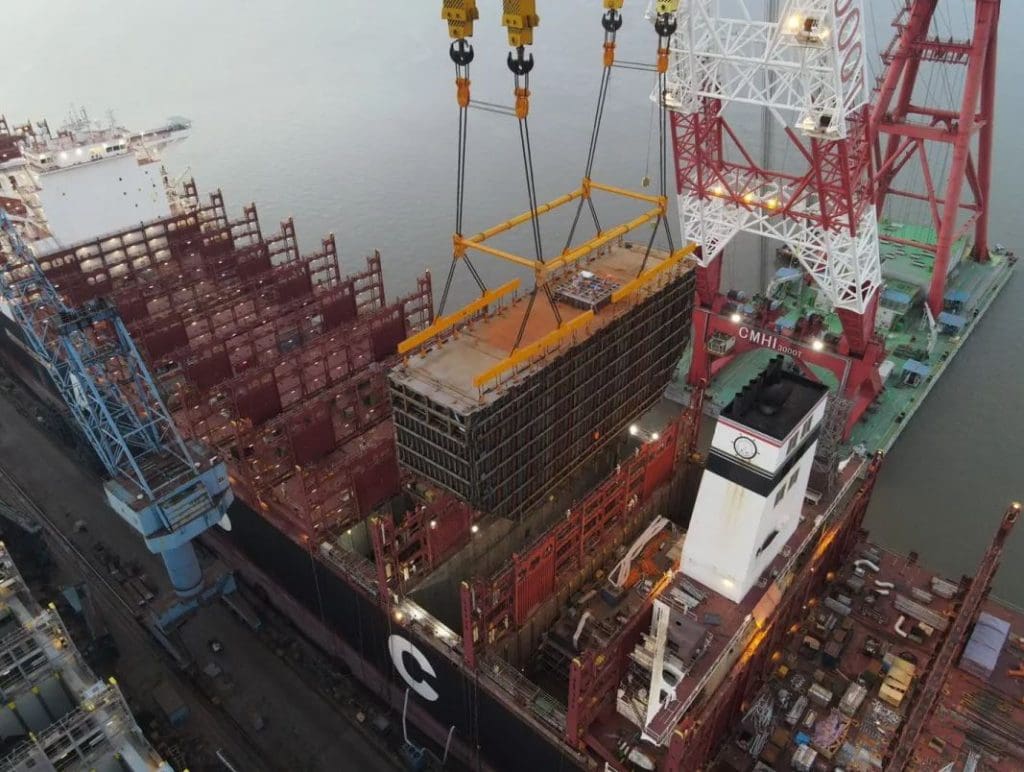 German container shipping line tapped CSSC's Hudong-Zhongua, a shareholder in Huarun Dadong, for the conversion project early last year.
The ongoing Covid-19 pandemic affected the project as Hapag-Lloyd previously planned to start the works in May.
The world's first large contairneship conversion to LNG power has a price tag of about $35 million.
This pilot project will help Hapag-Lloyd to decide on future LNG conversions but also paves the way for other boxship owners looking to slash emissions and comply with more stringent IMO rules.
Besides new tanks, the ship's fuel system and its existing heavy fuel oil-burning MAN engine will switch to dual-fuel power. This includes LNG and low-sulphur fuel oil as a backup.
Hapag-Lloyd inherited the LNG-ready Sajir after its takeover of UASC back in 2017. Its 16 sister ships are also LNG-ready and fit for retrofitting.
Huarun Dadong expects to complete the retrofit works on Sajir by year-end.
Sajir's initial test voyages are set for early 2021 before its redeployment in the Asia-North Europe trade lane.