Himalaya Shipping's two dual-fuel Newcastlemax bulk carriers have completed their first liquefied natural gas (LNG) bunkering operations in Singapore.
Tor Olav Trøim's Himalaya said in a statement that that its ships, Mount Norefjell and Mount Matterhorn, have bunkered with LNG in Singapore over the last days.
According to the image below posted by Himlaya via its social media, the 7,500-cbm dual-fuel bunkering vessel, FueLNG Bellina, bunkered Mount Matterhorn with LNG.
Singapore's first LNG bunkering vessel, owned by a joint venture consisting of Shell and Seatrium Offshore & Marine, completed its first bunkering operation in March 2021.
Last month, Himalaya took delivery of the 210,000-dwt LNG dual-fuel, Mount Matterhorn, the company's fifth Newcastlemax bulk carrier of the twelve it has on order at China's New Times.
Mount Norefjell is the first vessel in this batch and joined Himalaya's fleet in March.
Himalaya claims that a Newcastlemax running on LNG reduces its CO2 emissions by 43 percent compared to a standard Capesize ship, in addition to significantly reducing SOx and NOx.
On July 31, LNG prices (adjusted for calorific values) reached $472/t, compared to $537/t for HFO and $610/t for VLSFO, the firm said.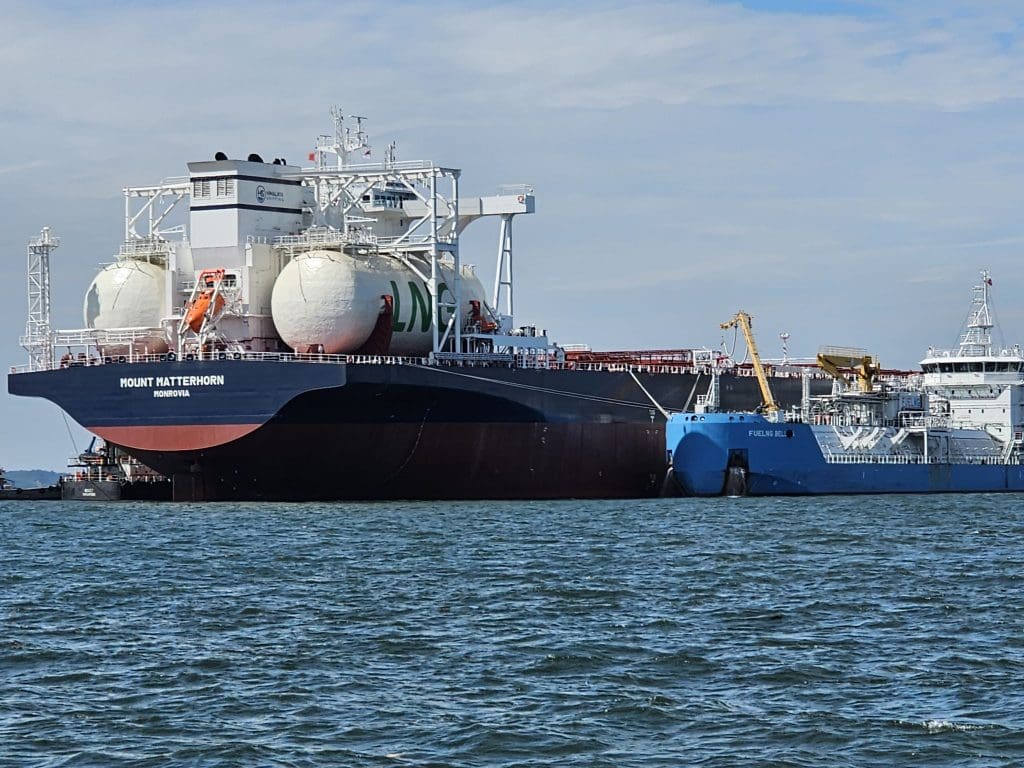 Herman Billung, contracted CEO of Himalaya, welcomed the first LNG bunkering of the Himalaya ships.
"Both the environmental and economic benefit of running on LNG makes us confident in our choice to invest in dual-fuel engines," he said.
Billung said that the "high LNG prices seen in the wake of the Russia-Ukraine conflict seems to be normalizing, and we believe, over time, LNG prices will trade at a discount to oil."
"Of the around 2000 Capesize+ dry bulk ships in the world, less than 2% can run on LNG, hence, Himalaya Shipping is well positioned to benefit from the environmental regulations being introduced," Billung said.