Japan's LNG player Inpex is joining forces with two other compatriot firms and Indonesia's Pertamina to look into exporting bio-LNG from Indonesia to Japan, as part of a new deal revealed this week.
Besides Inpex and Pertamina, the two other partners are LNG engineering firm JGC and Japan's city gas supplier and LNG importer Osaka Gas.
The four firms said in a statement on Monday they have entered into a joint study agreement on exploring the feasibility of a "clean natural gas" and LNG project in Indonesia involving the production of biomethane from palm oil mill effluent (POME).
Indonesia is the world's largest producer and exporter of palm oil.
According to the statement, POME contains large quantities of organic material, resulting in significant methane emissions.
The project would contain POME-derived greenhouse gas emissions by sequestering methane and converting it to biofuels, contributing to the supply of "clean energy in a sustainable manner," the partners said.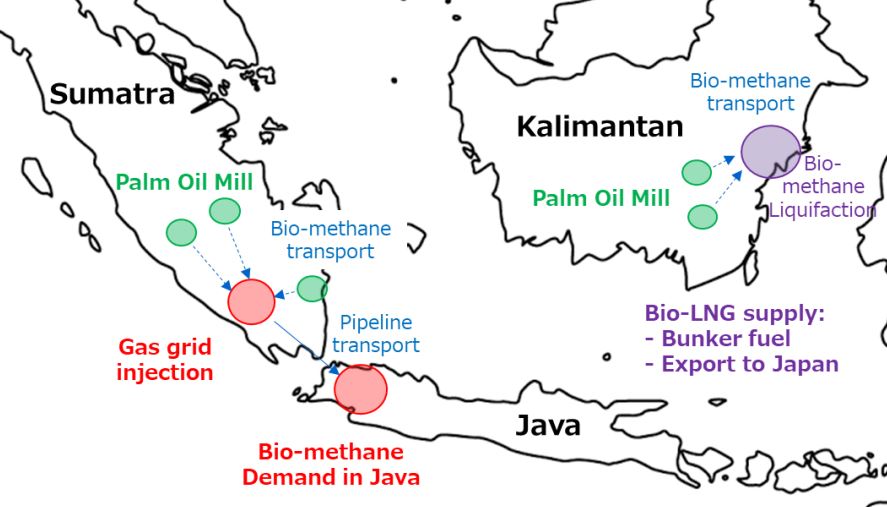 LNG bunkering
The statement said that the study would look into the feasibility of producing biomethane from POME resources located in Sumatra and Kalimantan for onward distribution to consumers in Indonesia, including Java.
The partners plan to supply biomethane through the existing gas grid in order to meet growing natural gas demand and also to contribute to the reduction of emissions of gas consumers in Indonesia.
In addition, the firms would also jointly assess opportunities for the project to leverage carbon crediting mechanisms and biomethane certification schemes to secure carbon neutrality.
Finally, the joint study would also involve identifying bio-LNG and bunker fuel marketing opportunities, including bio-LNG export to Japan and/or other countries, they said.
This includes exploring opportunities on providing LNG bunkering solutions at Pertamina's Bontang LNG facility in East Kalimantan, the statement said.