State-owned Development Bank of Japan and classification society ClassNK are backing the construction of Fairfield Chemical's first LNG-powered tanker at Fukuoka Shipbuilding.
ClassNK said in a statement last week it has evaluated the LNG dual-fueled chemical tanker, Fairchem Pioneer, under the zero-emission accelerating ship finance program jointly operated by the classification society and DBJ.
Under the program, ClassNK evaluates ships based on a scoring model jointly developed with DBJ from the perspective of "decarbonization, environmentally-friendly performance, and innovativeness", and DBJ provides investment and financing.
According to ClassNK, the ship was given with "A" rating, recognizing that adequate environment-related investments have been made.
Fukuoka Shipbuilding and Fairfield Japan, a unit of Connecticut-based Fairfield Chemical Carriers firm, jointly developed the tanker that will go on charter to Fairfield Japan, it said.
ClassNK said that DBJ provided financing to Fukuoka for the tanker, but it did not reveal any additional information.
Fairfield Chemical ordered Fairchem Pioneer and sister vessel Fairchem Pathfinder in June 2021.
After that, it exercised an option for two more 26,300-dwt stainless steel chemical tankers, Fairchem Prestige and Fairchem Pinnacle, in October 2022, according to VesselsValue data.
Fairfield Chemical said in an update last month that LNG tanks (pictured above) for the first vessel have arrived at the shipyard prior to the launching of the vessel.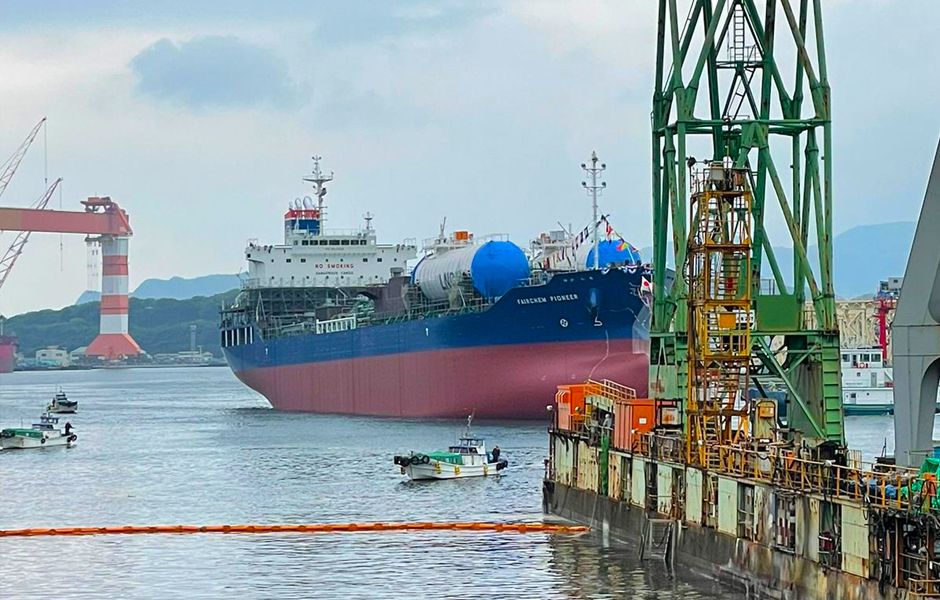 Fukuoka floated out Fairchem Pioneer on April 7, Fairfield Chemical said in a statement early on Monday.
China's Gloryholder Liquefied Gas Machinery (LGM Engineering) won a contract to supply fuel systems for the first two Fairfield Chemical's LNG-powered tankers.
Fairfield Chemical should take delivery of the first vessel in this batch by the end of this year and the last tanker in 2025.