Japan's NS United Naiko Kaiun Kaisha is joining forces with several compatriot firms to build a hybrid LNG-powered coastal limestone carrier.
Its unit NS United Naiko Kaiun Kaisha would own the new 5,560-dwt vessel while Nippon Steel Corporation and Nippon Steel Cement would charter it, NS United Naiko Kaiun Kaisha said in a statement.
Also, Tsuneishi Shipbuilding will build the 93.8 meters long LNG-powered limestone carrier which will feature a propulsion system by Kawasaki Heavy Industries.
According to the statement, Japan Petroleum Exploration (Japex) would supply LNG to the ship following its delivery planned in February 2024.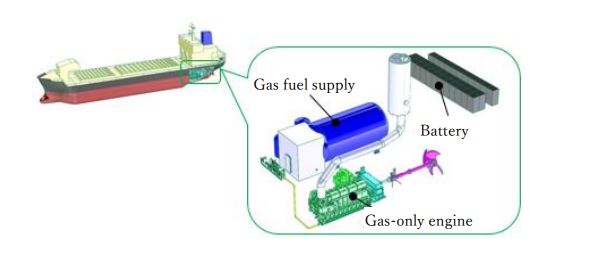 The new vessel will replace the limestone carrier "Shimokita Maru" owned by NSU Naiko.
It would feature Japan's first gas-only engine and total 2,847 kWh lithium-ion battery. The LNG fuel tank will use 7% nickel steel plate developed by Nippon Steel Corporation for the first time as a marine tank, the statement said.
The CO2 emission reduction effect of introducing the propulsion system of this vessel is
23.56% (about 30% at normal load operation) compared to the conventional vessels of the
same type, it said.
Moreover, the vessel will work from the loading port Shiriyamisaki in the prefecture of Aomori to the unloading port Muroran in Hokkaido. The project has received backing from the Japanese government.