Jiangnan Shipyard is moving forward with the construction works on the first of three LNG-fueled PCTCs featuring battery power for United European Car Carriers as it plans to launch the ship on April 12.
China State Shipbuilding Corporation's yard said on Thursday it lifted the last giant block on the newbuild pure truck and car carrier to complete the hull form.
In addition, the shipbuilder will now work on lifting the cabin units as well as on other construction and installation works in preparation for the launch.
To remind, UECC's newbuild received its LNG tank in November last year.
Moreover, UECC says the ship will have an optimal hull design to reduce the environmental footprint while the no-bulb design has a sharper waterline for better performance in waves.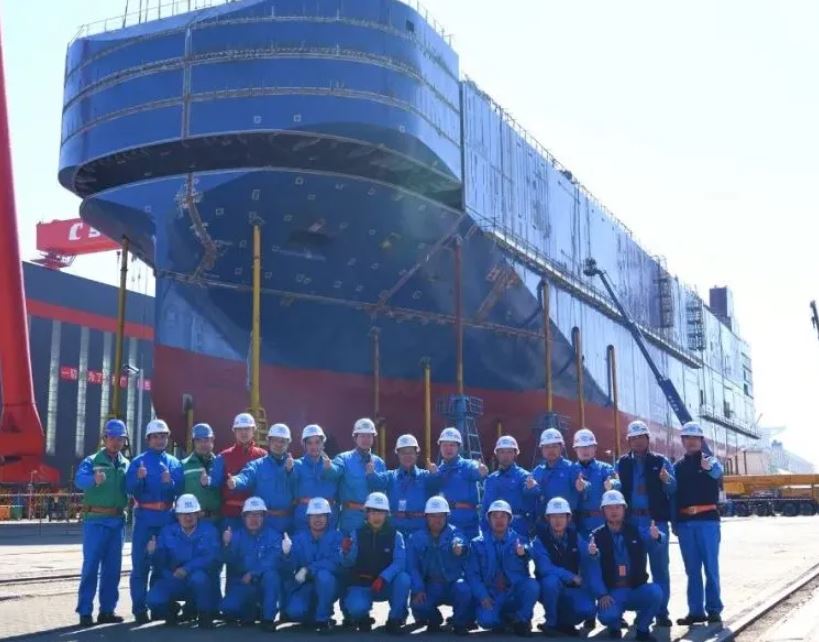 The Norway-based joint venture consisting of NYK and Wallenius Lines expects to take delivery of the first hybrid LNG-powered newbuilding for short sea trade in the second half of this year.
UECC has three such newbuilds on order in China. The firm expects the two other vessels to join its fleet in early 2022 and towards the middle of 2022, respectively.
The shipping company previously said the battery-hybrid solution would take the firm beyond the IMO target of 40% reduction in carbon intensity by 2030.
Furthermore, the new vessels will enlarge the UECC dual-fuel fleet to five ships in total as it already operates two LNG-powered PCTCs.