Spot charter rates for the global liquefied natural gas carrier fleet have doubled over the last two weeks, according to Spark Commodities.
Earlier this month, spot LNG freight rates rose over $100,000/day in both Atlantic and Pacific for the first time since December 2021.
Now the rates surged "above $200k/day in both basins as winter approaches," Spark said on Monday.
LNG freight rate for a 160,000-cbm TFDE carrier reached $210,500 a day in the Atlantic on Monday.
Compared to the previous week, Spark30S Atlantic spot LNG freight rate jumped by $44,25O.
On the other side, the Pacific rate also rose to $213,050 per day on Monday, up by $7,250 from the last week, according to Spark.
Spark also said that positioning fees are now being included in negotiations and fixtures, driving up the round-trip rates.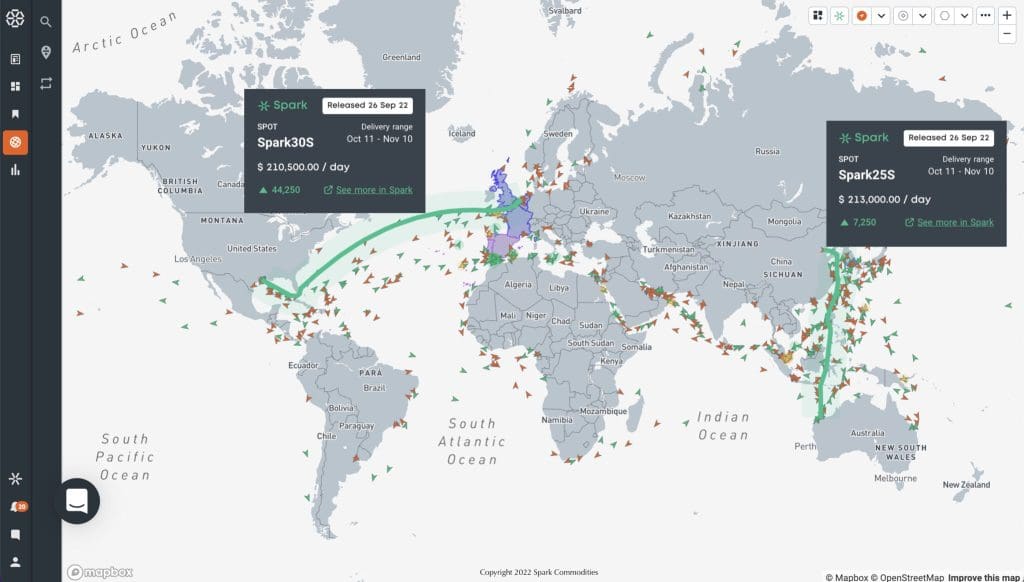 Prior to these increases, charter rates dropped considerably in June due to the shutdown at the Freeport LNG facility in Texas.
Last month, Freeport LNG delayed the restart of its 15 mtpa LNG export plant in Texas to November following an incident at the facility that took place on June 8.
This facility and other US LNG terminals have sent most of their volumes to Europe this year due to high gas prices and as European countries look to slash reliance on Russian pipeline gas.
European demand also pushed Asian spot LNG prices to record highs.
The JKM LNG price fell in the last couple of weeks but it remains very high. It was assessed on September 23 at $38.21/MMBtu, up by 45 percent compared with a year ago, according to Platts.