China's Jiangsu Yangzijiang Shipbuilding has recently launched the LNG-powered MSC Washington which features a 12,300-cbm type C bi-lobe LNG tank.
Singapore-based LNG fuel system specialist C-LNG Solutions claims this is the world's largest type C liquefied natural gas tank.
In addition, this is also the first Neopanamax container vessel which has this type of LNG tank, it said.
Switzerland-based MSC would charter this 14,280 TEU vessel owned by a subsidiary of Tiger Group, Greathorse Shipping. The latter also has a sister vessel on order at Jiangsu Yangzijiang.
Following the delivery of the MSC Washington in April next year, the vessel would become the first LNG-powered containership in MSC's fleet, according to Alphaliner. MSC would charter the sister ship as well.
LNG Prime contacted MSC for a comment but we did not receive a reply by the time this article was published.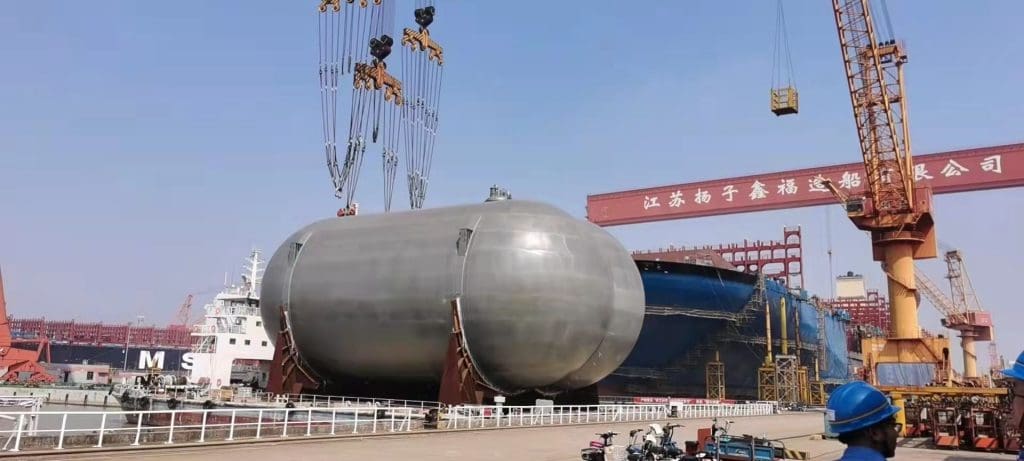 MSC is investing heavily in LNG-ready and LNG-powered vessels and has revealed several new deals this year.
The shipping line has earlier this year placed orders for thirteen 16,000 TEU LNG-ready containerships with Dalian Shipbuilding and GSI, both controlled by CSSC.
It also signed a deal in July with GSI for two additional scrubber-fitted LNG-ready vessels.
Besides these LNG-ready vessels, MSC has earlier this year signed a contract with Singapore's Eastern Pacific Shipping to charter eleven 15,300 TEU LNG-powered containerships.
Brokers also recently said that MSC would charter six new LNG-powered vessels ordered by Zodiac Maritime and Cido Shipping. MSC did not confirm these reports.
The Geneva-based giant, which has a fleet of about 600 vessels, previously said it continues to "envisage a range of fuel solutions on the route to a zero-carbon future."