Russia's Novatek said module carrier Audax completed its voyage along the Northern Sea Route, delivering a module for its Arctic LNG 2 project in Murmansk from the Chinese port of Tianjin.
The Arc7 ice-class module carrier completed its journey along the NSR long after the traditional navigation season closure, to deliver a process module with a weight of almost 12,000 tonnes.
Novatek will install the module on the gravity-based structure (GBS) of the first Arctic LNG 2 train at its construction yard in Belokamenka in Murmansk.
This voyage was unique due to the size of the vessel that had to pass the entire NSR with nuclear icebreaker support during the challenging ice conditions of February, according to Novatek.
Atomflot icebreakers escorted the vessel along the NSR.
However, the icebreaker assistance was difficult largely due to navigation specifications during the winter of 2022.
Compared to previous years, the current NSR navigation season saw severer ice conditions, Novatek said.
Also, the summer-fall navigation period ended at the beginning of November 2021, much earlier than in previous years.
Due to the size of Audax, icebreaker assistance in the route's most challenging sections in the Chukchi, East Siberian and Kara Seas involved two icebreakers widening the ice channel.
"The successful completion of the voyage testifies to the reliability of the company's logistics model and the possibility of year-round LNG deliveries via the Northern Sea Route to the Asia Pacific region," Novatek said.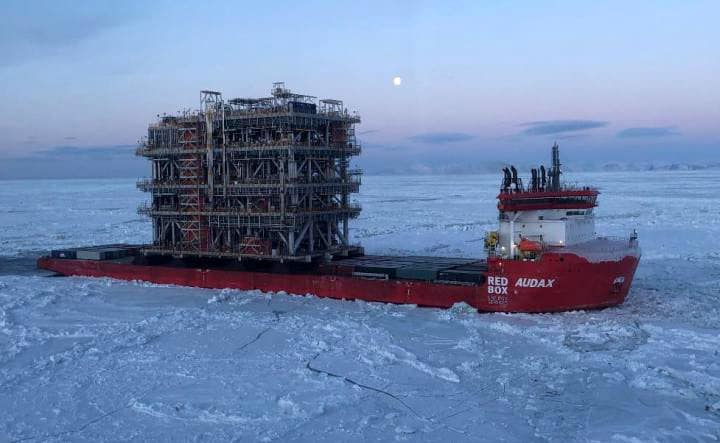 First train to start production in 2023
This delivery follows a recent shipment of two Arctic LNG 2 modules from China to Novatek's yard in Murmansk.
COSCO Shipping Heavy Transport's semi-submersible vessel delivered the two modules as part of a deal with Technip Energies.
The latter is a part of a joint venture, which includes Saipem and Nipigas, and the main contractor of the Arctic LNG 2 project.
Tianjin-based Bomesc Offshore Engineering built the two giant modules including what it says is the heaviest Arctic LNG 2 module.
Overall, contractors' shipyards will supply in total 14 modules for the first LNG train, Novatek previously said.
The Arctic LNG 2 project located on the Gydan peninsula includes the construction of three LNG trains with a capacity of 6.6 mtpa, each.
Novatek is the LNG project's operator with a 60 percent stake, France's TotalEnergies owns 10 percent while CNPC and CNOOC of China have 10 percent, each.
Japan Arctic LNG, a consortium of Mitsui & Co and Jogmec, owns a 10 percent stake in the project as well.
The partners plan to launch the first LNG train in 2023, with trains 2 and 3 to follow in 2024 and 2025, respectively.