Japan's MOL, Malaysia's Petronas, and China's SDARI have received approval in principle for two designs of liquefied CO2 (LCO2) carriers and a floating storage and offloading (FSO) unit.
According to a statement by MOL, both DNV and ABS approved designs for LCO2 carriers with a capacity of 87,000 cbm and with a capacity of 14,000 cbm.
In addition, ABS issued approval in principle for LCO2 FSO with a capacity of 96,000 cbm.
This follows a memorandum MOL and Petronas signed back in February 2022 to explore liquefied CO2 transportation opportunities in the Asia Pacific and Oceania regions.
After that, the two firms and SDARI completed the concept study and received the approvals.
MOL says that an FSO can receive, store, and offload cargo offshore, and LCO2 FSOs are considered one of the "most effective scenarios" in the carbon capture, utilization, and storage (CCUS) market.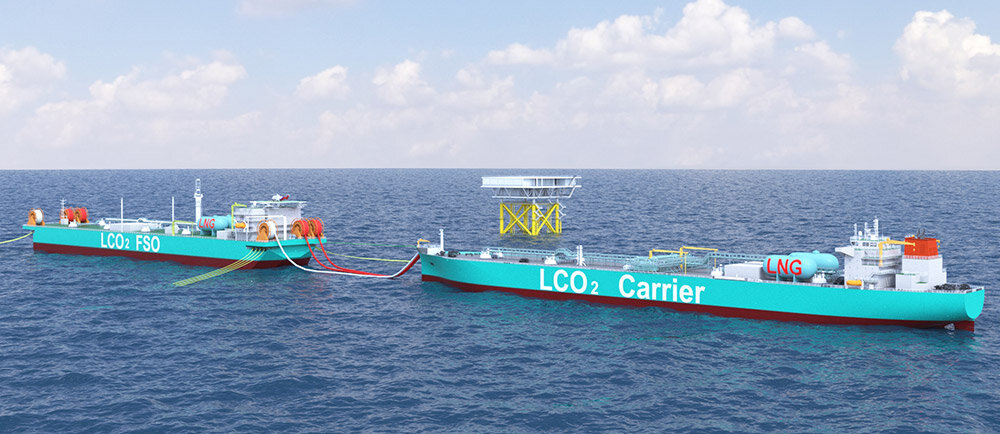 Images provided by MOL show that the LCO2 vessels could feature liquefied natural gas (LNG) propulsion.
"Completion of these concept designs and acquisition of AiPs clears the way toward a flexible approach to transport needs in consideration of volume, transport distance, and direct transport to FSOs near offshore storage facilities," it said.
MOL added that it will further collaborate with Petronas through the newly acquired AiPs and will continue its efforts to develop various technologies including LCO2 carriers and FSOs.