The Petronas-chartered Avenir Advantage continues to fuel vessels in the waters offshore Malaysia and Singapore as the globe's LNG-powered fleet rises.
The newest addition to the bunkering vessel's client list is Furetank's recently-delivered Fure Vinga. The 17,999 dwt ice-class 1A ship is on its way to Europe following delivery at China Merchants Jinling shipyard last month.
According to Sweden's Furetank, the 7,500-cbm Avenir Advantage bunkered Fure Vinga during the weekend in the Singapore Strait area.
Moreover, the Swedish firm says Dutch supplier Titan LNG took part in the bunkering operation.
Furetank's vessel has two small LNG tanks with a total capacity of 600 cbm meaning the vessel took only a small cargo from the dual-purpose LNG bunkering and supply vessel.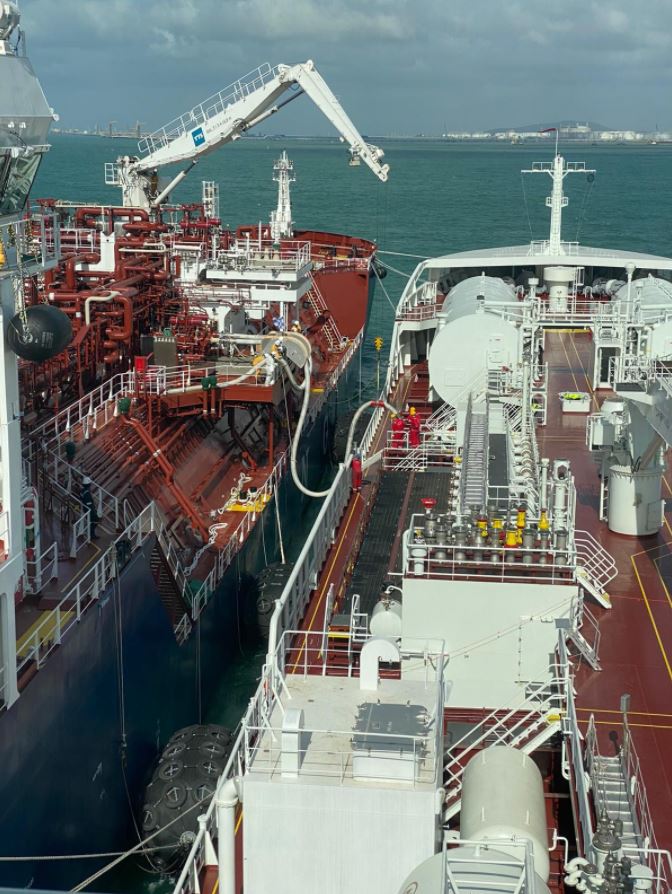 To remind, a unit of the Malaysian giant Petronas started using the Avenir-owned vessel in November last year by completing the country's first STS bunkering operation.
In addition, Future Horizon, a joint venture between Petronas' unit MISC and Avenir, chartered the vessel to Petronas LNG for a period of three years.
The vessel has until this operation bunkered several different ships including Siem's car carrier, Altera's shuttle tanker, and Posco's bulk carrier.
According to Avenir and Petronas, the small-scale vessel is the first dedicated LBV in South East Asia.