PSA Singapore said it has launched a new fleet of 80 LNG-powered trucks at its Pasir Panjang terminal.
The unit of port group PSA said in a statement this marks a "significant milestone" in its decarbonisation journey, as it targets to cut its greenhouse gas emissions by 50% from 2019 levels by 2030.
With a tank capacity of approximately 130 kg, each new LNG-powered prime mover, also known as terminal tractor, can operate for over 20 hours before refueling, according to PSA.
Compared to diesel, LNG is a "cleaner" alternative fuel for vehicles that burns with lower carbon dioxide emissions and reduces the emissions of pollutants such as nitrogen oxides, sulphur oxides and particulate matter.
Since their deployment, the new LNG-powered trucks have helped PSA reduce its carbon dioxide equivalent (CO2e) emissions by an estimated 20%, the port operator said.
New LNG fueling station
PSA has also in April launched a new LNG filling station to fuel the new fleet.
With four dispensers and a capacity of 40 tonnes, the station can refuel up to 300 LNG-powered trucks per day.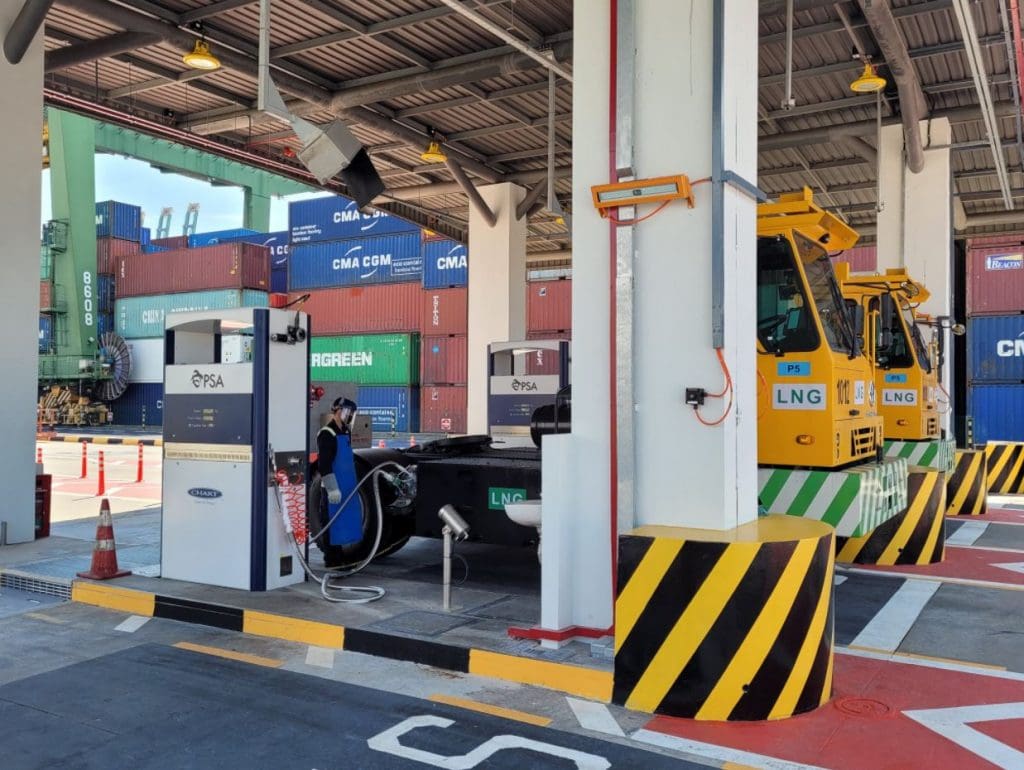 "Its unique design will also ensure that any LNG vapour that might otherwise have been leaked during the refueling process, will instead be recovered, and recycled back into the storage tanks," PSA said.
The benefits of such a system are twofold: preventing fuel wastage and reducing unintended leakages, it said.
Expanding the fleet
PSA said it would gradually take delivery of more LNG-powered trucks in the coming months.
It aims to deploy 160 LNG-powered trucks in Pasir Panjang terminal by the end of August this year.
When fully deployed, these vehicles would reduce about 4,000 tonnes of CO2e emissions per year as compared to using diesel-powered prime movers, PSA said.