South Korean shipbuilder Samsung Heavy Industries is joining forces with Norway's Kongsberg Maritime to develop what it says is an autonomous 174,000-cbm LNG carrier.
In that regard, the two firms signed a joint development agreement to develop a next-generation LNG carrier with improved safety and energy efficiency by optimizing the latest remote autonomous navigation and low-carbon technologies, according to a statement by SHI.
Also, the aim of the new collaboration is to ensure that autonomous ships become the optimal solution for shipping companies to reduce operating costs and operational risks, SHI said.
Last year, SHI demonstrated its autonomous navigation capabilities by performing a sea trial of a 9,000-ton training vessel from Mokpo to Dokdo in South Korea, it said.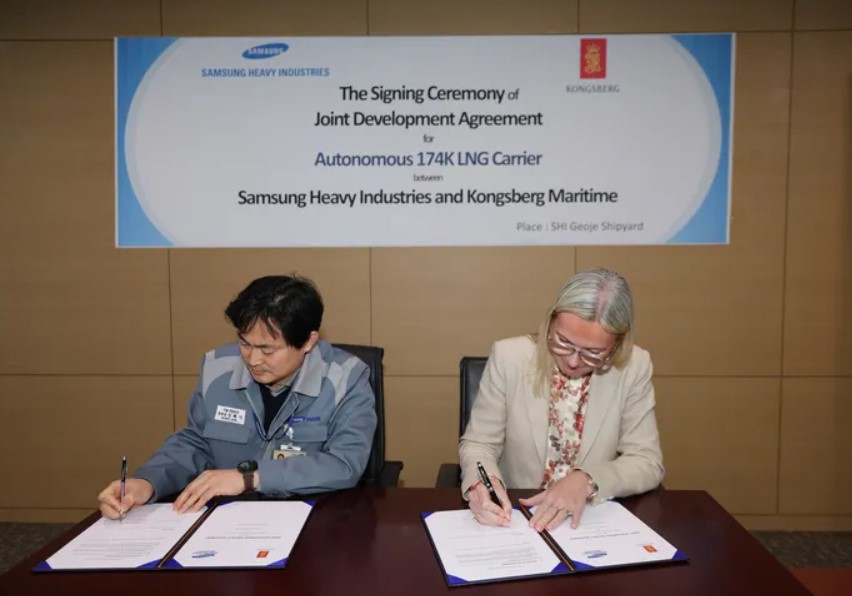 SHI secured orders worth about $2 billion during January this year.
This includes an order for two LNG carriers for Japan's MOL worth some $496 million and a contract worth $1.5 billion for a floating LNG producer.
SHI and JGC won a contract from Petronas to build the first nearshore FLNG with a capacity of about 2 million tonnes.
The figure of $2 billion equals to about 21 percent of SHI's $9.5 billion order target this year.
SHI received orders worth $12.2 billion and $9.4 billion respectively in 2021 and 2022, exceeding its target.
Last year, SHI won orders for 36 LNG carriers, marking a record for the largest number of orders for LNG carriers in a year for the shipbuilder.
SHI expects owners to order more than 70 LNG carriers at yards this year.