South Korean shipbuilder Hanwha Ocean, previously known as DSME, has received an approval in principle from classification society DNV for a 345 meters long liquefied natural gas (LNG) carrier.
DNV said in a statement that the design of the 270,000-cbm LNG carrier maximizes cargo capacity while optimizing vessel performance.
Under its class guidelines, DNV conducted a structural verification and feasibility study.
The classification society said it has validated critical structural details throughout the advanced analysis and reviewed the sloshing calculation for cargo tanks.
The LNG carrier, designed with a breadth of 55m, will have five cargo tanks to minimize sloshing pressure.
Also, it will feature a "well-proven" X-DF engine and reliquefaction system to offer the "best performance and significantly" improve CII, the statement said.
"We believe this AiP marks the dawn of a new era in 270K LNG carrier designs and significantly enhances the competitiveness of ships built by Hanwha Ocean," Jong Seo Kim, COO of Hanwha Ocean, said in the statement.
"Our commitment is to align with our clients' needs and adhere to industry regulations, primarily focusing on creating a safer 270K LNG carrier," he said.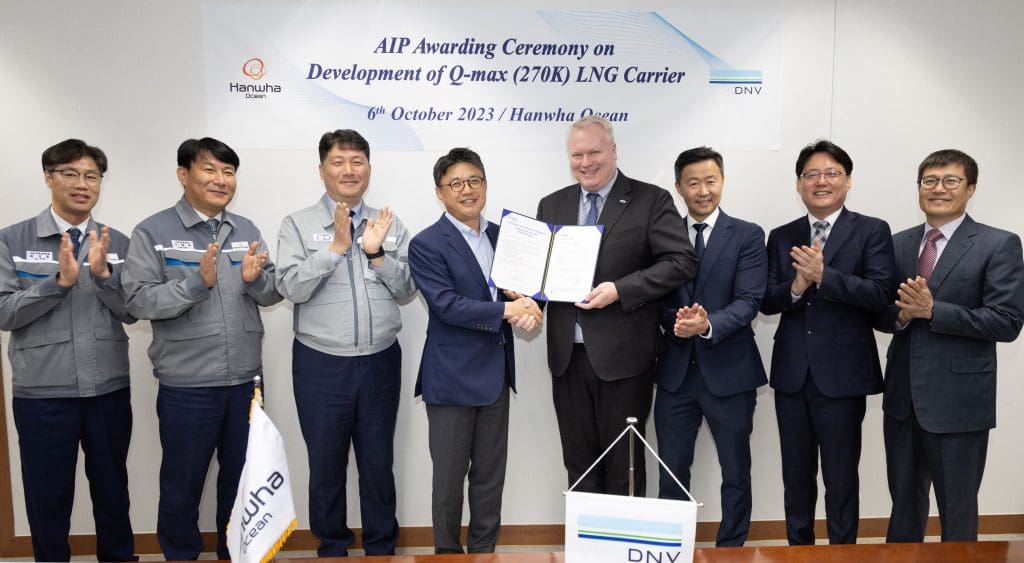 Q-Max LNG carriers
Last month, DNV and three other classification societies granted AiP certificates for Hudong-Zhnoghua's 271,000-cbm LNG Max carrier.
This LNG carrier is 344 meters long, 53.6 meters wide, and has a design draft of 12 meters.
It features dual-fuel propulsion, a reliquefaction system, an air lubrication system, GTT's NO96 Super+ containment tech, and it also has five storage tanks.
Currently, the world's largest LNG carriers are Qatar's Q-Max vessels that are about 345 meters long and have a capacity of 263,000-266,000 cbm.
Qatar's Nakilat owns 14 Q-Max LNG carriers built by DSME (Hanwha Ocean) and Samsung Heavy between 2008 and 2010, and they all transport LNG from the giant Ras Laffan LNG complex in Qatar to customers around the globe.
QatarEnergy LNG, previously known as Qatargas, currently operates 14 LNG production trains with a capacity of about 77 Mtpa in Ras Laffan.
However, QatarEnergy is significantly increasing its LNG production from the North Field.
This first phase of the North Field expansion project will increase Qatar's LNG production capacity from 77 to 110 Mtpa, while the second phase will further boost capacity to total 126 Mtpa.
Giant LNG shipbuilding program
To secure shipping capacity, QatarEnergy reserved slots back in 2020 with three Korean shipyards, including Samsung Heavy, HD Hyundai Heavy Industries, and Hanwha Ocean, and China's Hudong-Zhonghua.
Last month, QatarEnergy signed a deal for 17 LNG carriers with HHI, kicking off the second phase of its giant LNG shipbuilding program.
Under the first phase, QatarEnergy contracted 60 LNG carriers at South Korea's three shipbuilders HHI, SHI, and Hanwha Ocean, and China's Hudong-Zhonghua.
This new brings the total number of confirmed new LNG vessels to be delivered to QatarEnergy and its affiliates to 77, with more to follow, QatarEnergy said.
Besides 174,000-cbm vessels, LNG Prime recently reported, citing shipbuilding sources, that QatarEnergy is looking to order about 15 Q-Max LNG carriers at yards in Korea and China.
These deals could be finalized by the end of this year, the sources said.