South Korean LNG importing giant Kogas said it had received the 5000th cargo at its Pyeongtaek LNG import terminal since 1986.
According to a statement by Kogas, the 1996-built 127,100-cbm LNG carrier, Hyundai Greenpia, delivered the milestone cargo to the giant LNG import terminal last week.
Kogas held a ceremony to celebrate the arrival of the 5000th shipment on January 26.
Hyundai Greenpia delivered the LNG cargo from the Santos-operated GLNG plant on Curtis Island off Gladstone, Australia, its AIS data provided by VesselsValue shows.
Kogas has a 15 percent stake in this 7.8 mtpa facility and an offtake agreement.
Besides Australia, Kogas buys LNG from the US, Indonesia, Qatar, Oman, Malaysia, etc.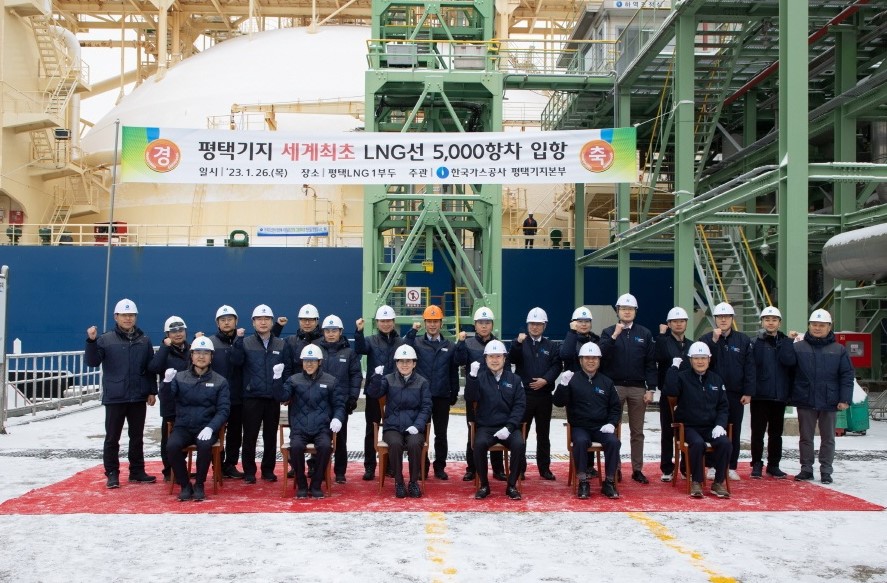 The firm said in the statement that the LNG carriers, which transported these 5000th cargoes to the Pyeongtaek LNG plant, had covered around 90 million kilometers.
This is equivalent to circling the globe 2,259 times, Kogas said.
Launched in 1986, the Pyeongtaek LNG terminal is the first import and regasification facility in South Korea.
The terminal's inaugural cargo arrived in 1986 onboard the 129,000-cbm, Golar Spirit, from Indonesia.
GIIGNL's data shows that the facility currently has 23 LNG storage tanks with a capacity of 3.36 million cbm and a regasification capacity of 30.1 mtpa.
Besides Pyeongtaek, Kogas operates three more large LNG terminals in Incheon, Tongyeong, and Samcheok.
Also, the firm has a small-scale regasification terminal at the Aewol port on Jeju island and is building a large terminal in Dangjin.