Hong Kong-based Tiger Gas, led by former Seaspan CEO Gerry Wang, expects to take delivery of the first out of four LNG ISO tank carriers by the end of this year.
China's Yangzijiang Shipbuilding, which is building these vessels claimed to be the world's largest dual-fuel LNG tank carriers, has launched the second ship in this batch, Tiger Maanshan, on November 5.
This launch follows the float out of the first vessel, Tiger Longkou, in October.
Yangzijiang says it would hand over the first vessel by the end of December, four months ahead of the previously planned delivery in April 2022.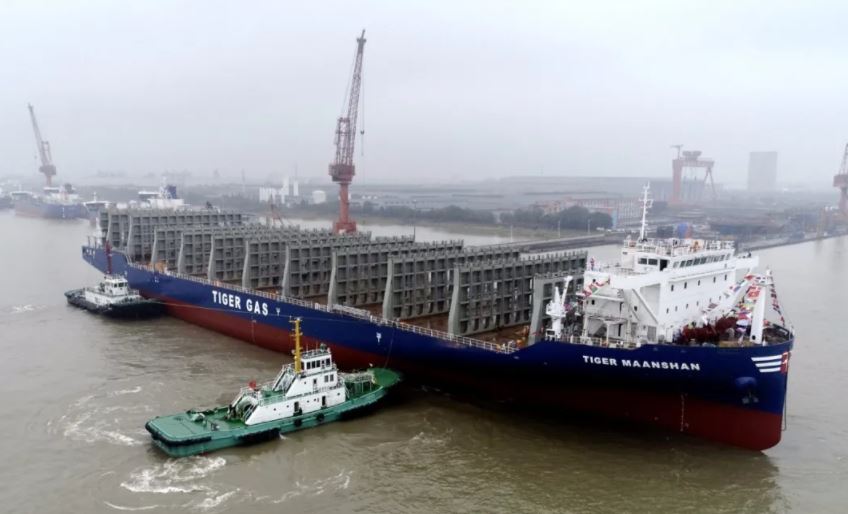 Tiger Gas first ordered two of these vessels in June last year and after that confirmed two more options in December.
The vessels will also feature type C tanks and go on LNG and will be capable of transporting ISO tanks in both deep sea and inland waters such as the Yangtze River.
They will have a capacity to carry 690 40ft LNG ISO tanks or about 15,000 tons of LNG, Yangzijiang said.
Tiger Gas will use these vessels to mainly transport ISO tanks from Malaysia to China.
Malaysia's Petronas has earlier this year started exporting LNG to China in ISO tanks from its filling facility in Johor, as part of a deal with Tiger Clean Energy, a unit of Tiger Gas.