Japan owns the world's most valuable fleet of liquefied natural gas (LNG) carriers, followed by Greece and South Korea, according to the newest data by VesselsValue.
The value of the Japanese LNG fleet stands at $30.3 billion as of October, VesselsValue said on Thursday.
Greek LNG fleet, which was first last year, has a value of $29.9 billion while South Korean fleet is worth $17.1 billion.
In terms of overall fleet value, Japan has moved back up to first position after falling to second last year, currently owning a total of $196.6 billion in assets.
This is an increase of about 9 billion year-on-year and is largely due to the current boom in the LNG sector, VesselsValue said.
Out of the top ship owning countries, Japan owns the highest value fleets for LNG vessels, bulkers at $53.5 billion and also reefers at 985 million, small dry at $8.8 billion, LPGs at $8.7 billion, and vehicle carriers at $22 billion.
China has the largest number of vessels
China has retained first place this year in terms of number of vessels owned, with a total of 6,908 vessels and a current fleet value of $190.1 billion while Greece has retained its third place spot both for total number of vessels by fleet and by value.
You can find more info for other countries in the infographic below.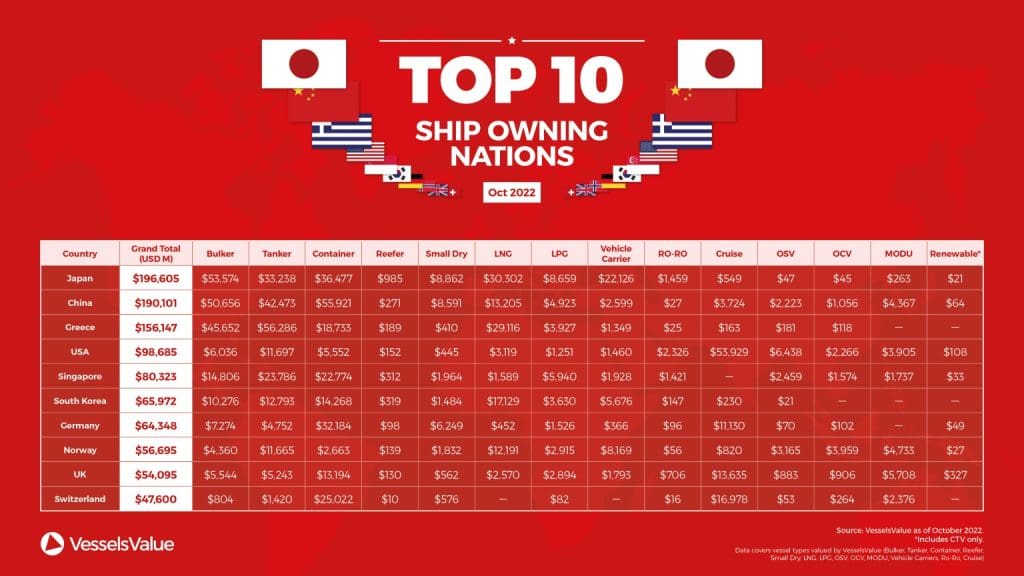 "Stratospheric rates"
VesselsValue noted that rate levels have been stratospheric this year for the LNG sector, with earnings at an all time high of $441,385 per day in October, bringing up values for the entire fleet.
Due to the soaring spot prices, the value of the Greek LNG fleet fleet also rose by over 50 percent from the start of the year, with an increase in value of $10 billion from last year, it said.
This has also sparked an ordering spree across the LNG sector and a total of 142 new orders have been placed so far this year, an increase of about 92 percent year-on-year.
Of these orders, around a quarter were placed by Japanese companies including MOL, NYK, and Meiji Shipping, VesselsValue said.