CSSC's Wuchang Shipbuilding said it has completed the first LNG-powered platform supply vessel for compatriot China Oilfield Services (COSL).
Wuchang said in a statement the vessel left named Haiyang Shiyou 540 left its Wuhan Shuangliu yard on September 17 for additional sea trials ahead of its delivery. Prior to that, it had completed trials on the Yangtze River.
The shipbuilder did not provide any additional information.
Wuchang is building in total eight 4000HP LNG-powered PSVs for COSL, a unit of CNOOC.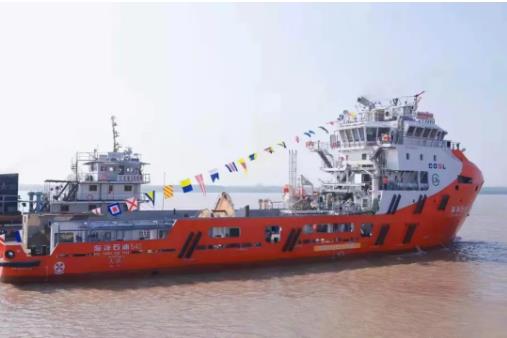 China's Gloryholder Liquefied Gas Machinery won a contract in 2019 to deliver LNG fuel systems for the vessels.
According to LGM, the vessels would feature one type C LNG storage tank with a capacity of 170 cbm.
The eight vessels are part of a series of 12 LNG-fueled PSVs being built for COSL. Liaonan shipyard will build the other four.
Finland's Wartsila also won a contract back in 2019 to supply its 20DF dual-fuel engines for all of these LNG-powered vessels.
Wartsila said then these vessels would be the first LNG PSVs built for a Chinese owner.