Australian firm Tamboran is targeting first LNG production from its proposed 6.6 mtpa LNG plant in Northern Territory by 2030 after it secured land for the development.
According to a statement by Tamboran, the Northern Territory government has provided the firm exclusivity over 170-hectares (420-acres) on the Middle Arm Sustainable Development Precinct for its project, Northern Territory LNG (NTLNG).
The LNG project would receive low reservoir CO2 gas from the onshore Beetaloo Basin, it said.
Furthermore, the government has allocated the Middle Arm acreage on a "do not deal" basis for twelve-months, allowing Tamboran to progress a concept select phase for the proposed NTLNG development, the firm said.
The Middle Arm Sustainable Development Precinct is located on a peninsula south of Darwin that already hosts the Inpex-led Ichthys LNG plant and also the Santos-led Darwin LNG terminal.
Tamboran said the site under exclusivity would host an LNG plant with an initial capacity of 6.6 mtpa, but with the potential for expansion.
It remains subject to completion of the concept select study, successful Beetaloo appraisal drilling and flow testing, and also government approvals, the firm said.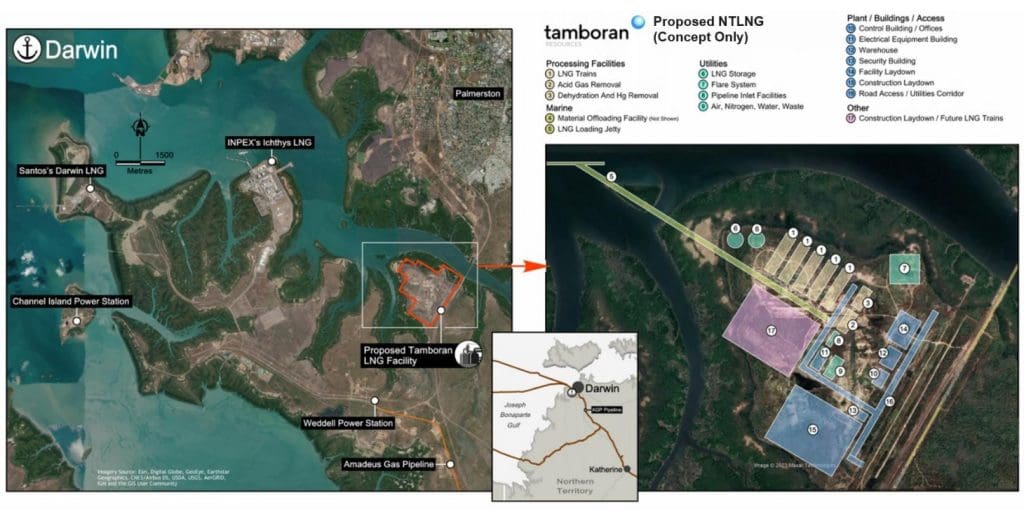 FID by 2026
Tamboran claims NTLNG represents the first fully integrated onshore LNG development in Northern Australia where upstream, midstream, and downstream production and processing are based in the Northern Territory.
The firm is targeting first LNG production by 2030, with a near-term commitment to ensure
Australia's Northern Territory and East Coast gas markets are "well supplied".
Also, FEED studies remain ongoing for the proposed 100 million standard cubic feet per day (mmscfd) domestic pilot development, with volumes contracted to Australia's Origin Energy for 10-years, it said.
"If deemed commercial, Tamboran aims to sanction the proposed LNG development by 2026, with first volumes anticipated to commence by 2030," Tamboran managing director and CEO, Joel Riddle, said in the statement.
"This is an exciting opportunity for Territorians, which not only has the potential to deliver significant jobs in Darwin and the Beetaloo Basin over the long term, but also deliver hundreds of millions of dollars in royalties to the Northern Territory government and Native Title Holders, as well as benefits to the regional community and across the NT," he said.