Italian shipping group Fratelli Cosulich has ordered a new LNG bunkering vessel at China's Nantong CIMC Sinopacific Offshore & Engineering.
Shipbuilding sources told LNG Prime that Fratelli Cosulich has exercised an option for the second LNG bunkering vessel on October 30.
We reported on this development in early October saying that the Italian firm was looking to place the order for the vessel.
According to the sources, the vessel would have the same specifications as the first 5,300-dwt dual-fuel ship ordered earlier this year. Fratelli Cosulich would also pay the same price as for the first vessel, the sources said.
The Italian firm has plans for a third ship as well, the sources said.
Fratelli Cosulich previously said it would invest about $45 million in the first LNG bunkering vessel, but it also said it could receive a grant of about $5.2 million from the European Union under the Connecting Europe Facility (CEF) program.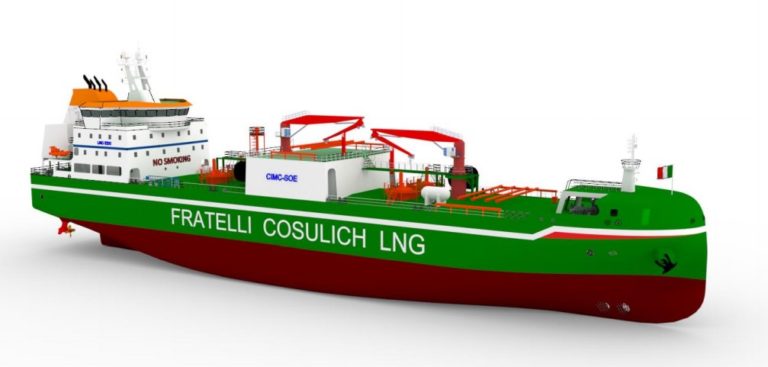 Besides the capacity to ship over 8,000 cbm of LNG, the vessel will also transport 500 cbm of MGO for bunkering.
Fratelli Cosulich aims to deploy the first LNG bunkering vessel in the Mediterranean Sea while Fratelli Cosulich LNG, a unit of the firm, will manage this vessel.
Finland's Wartsila secured a contract to supply a complete cargo handling system for the first LNG bunkering vessel which should start commercial operations in 2023.
The second ship should start serving Fratelli Cosulich in 2024, while it remains unclear where the firm would deploy this vessel.