France's TotalEnergies said it had secured a stake in QatarEnergy's giant LNG expansion project which will boost Qatar's LNG export capacity by 32 million tons per annum.
State-owned QatarEnergy selected TotalEnergies to join its massive LNG expansion project in Ras Laffan following a request for proposals.
Qatar's energy minister and chief executive of QatarEnergy, Saad Sherida Al-Kaabi, said in June last year that TotalEnergies, Shell, and ExxonMobil were bidding to take a stake in the company's giant LNG expansion project.
Recent media reports also said that QatarEnergy had picked at least these three firms for the world's largest single LNG project.
TotalEnergies revealed in a statement on Sunday it is the first company selected to partner with QatarEnergy on the North Field East (NFE) project.
The energy giant has been awarded a 25 percent interest in a new joint venture (JV), alongside QatarEnergy that has 75 percent.
Also, the new JV would hold a 25 percent interest in the 32 Mtpa NFE project, equivalent to one 8 Mtpa LNG train, it said.
"Another historic day for TotalEnergies in Qatar"
At the award ceremony, Patrick Pouyanne, chairman and CEO of TotalEnergies, said, "this is another historic day for TotalEnergies in Qatar, where we have been present for more than 80 years."
TotalEnergies was present at the beginning of its LNG industry in Qatar some 30 years ago through its interest in Qatargas 1, and then Qatargas 2 in 2005.
"We are very proud that Qatar has chosen again TotalEnergies, this time as the first partner for its new major phase of LNG expansion," he said.
"With its low costs and low greenhouse gas emissions – thanks to carbon capture and storage – the North Field expansion will be an exemplary and major contribution to our low-carbon LNG growth strategy," the CEO said.
Pouyanne added that this new partnership would enable the company to reinforce its global LNG portfolio and, "together with Qatar, it would support our ability to contribute to Europe energy security."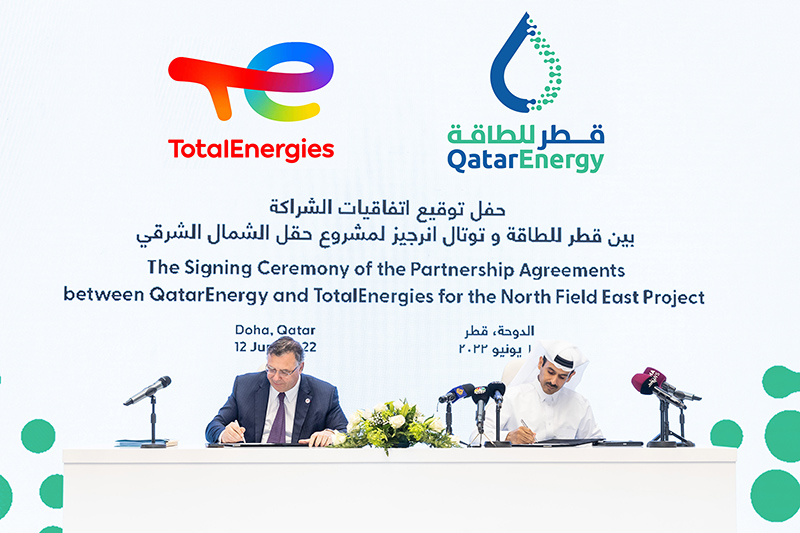 QatarEnergy to announce other partners "soon"
QatarEnergy said in separate statement that more partners would join the NFE project and it plans to announce them "soon".
As part of the partner selection process that started in 2019, QatarEnergy had received offers for double the equity available.
"This is a historic landmark for Qatar's energy industry and for the world's largest LNG development," Al-Kaabi said during the ceremony.
"The North Field East project is an iconic achievement that will not only ensure the optimal utilization of Qatar's natural resources but will also provide the world with the cleaner and more reliable energy it needs," he said.
More expansions planned, huge fleet in the making
In February last year, QatarEnergy took a final investment decision on the $28.75 billion NFE project.
This first phase of the expansion project will increase Qatar's LNG production capacity from 77 to 110 Mtpa. QatarEnergy expects to start production in the fourth quarter of 2025.
The state-owned firm is also working on a second phase to further boost capacity to 126 Mtpa by 2027 as well as additional expansions.
QatarEnergy and its unit Qatargas are also working on a giant fleet of LNG carriers to support this expansion and the firms already completed the first contracts in China and South Korea, with many more to come.
(Article updated to include a statement by QatarEnergy.)