Finland's Wartsila said it had won a contract from Agrofirma Tervete to supply equipment for a bio-LNG production plant in Tervete, Latvia.
According to a statement by Wartsila on Tuesday, the contract was included in the company's order intake in September 2022.
Agrofirma Tervete will utilise the plant to liquefy biogas from agricultural waste into bio-LNG. The plant will have a capacity of 10 tons of bio-LNG per day.
Under the contract, Wartsila said it would provide its puregas CA50LBG for removal of CO2 and hydrogen sulphide followed by an MR10 (mixed refrigerant) technology for the liquefaction stage.
Wartsila claims the puregas CA50 LBG process recovers more than 99.9 percent of the biomethane present in raw biogas by separating CO2 from the biogas through chemical absorption.
The delivery also covers the supply of spare parts and service agreement.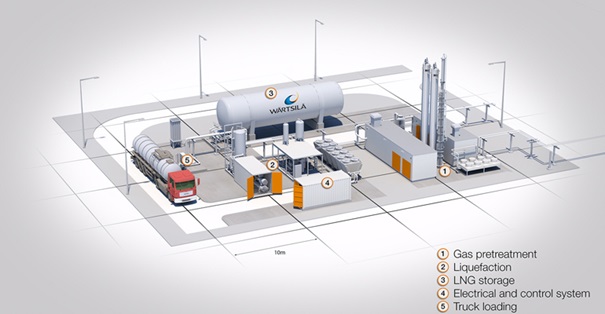 Wartsila did not provide the value of the deal.
The tech firm expects the bio-LNG plant to become fully operational by the end of 2023.
The use of bio-LNG as fuel for vehicles and for vessels is growing in Europe.
Earlier this year, Wartsila won a contract to supply equipment for a new bio-LNG production plant with a capacity of 63,000 tons per year in Germany.
In August, Norway-based Biokraft, a unit of Scandinavian Biogas, doubled the liquefaction capacity at its bio-LNG plant in Skogn following the launch of Wartsila's MR25 liquefaction train.