Spot charter rates for the global LNG carrier fleet in the Atlantic basin have reached a new record high, according to Spark Commodities.
"Spark30S Atlantic spot LNG freight rate reaches new record high of $330,00/day, surpassing the previous record high from January 2021," Spark said on Tuesday.
The Pacific rate also rose to $290,750 per day on Monday, Spark said.
Atlantic LNG rates rose four times from about $80,000/day at the end of August.
Last week, LNG freight rate for a 160,000-cbm TFDE carrier reached $322,500 a day in the Atlantic as the market tightens rapidly and companies, mostly in Europe, look to secure the last remaining vessels ahead of winter.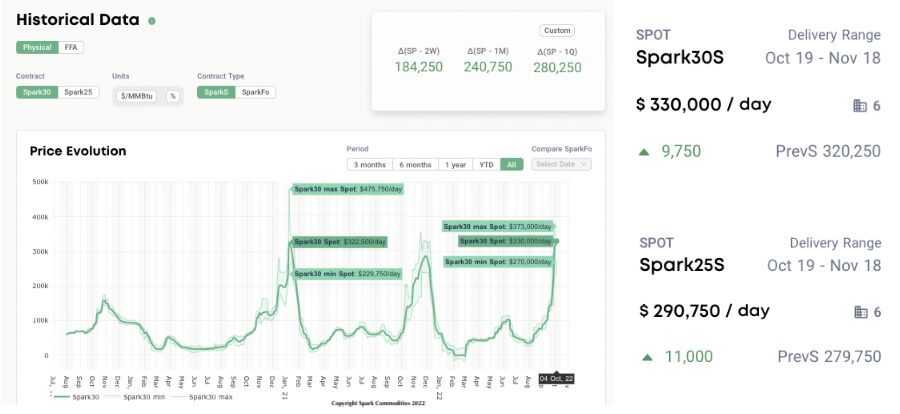 Shell booked the 174,000-cbm LNG carrier, Yiannis, owned by Maran Gas, to load a US cargo at the end of October for delivery to Europe at a rate equivalent to $400,000 per day on a round-trip basis, Bloomberg reported, citing traders.
This could be the most expensive deal for the Atlantic basin.
US LNG supplies surged to Europe this year due to high gas prices and as European LNG countries look to boost energy security and diversify sources.
On the other hand, high demand for LNG cargoes in Europe boosted Asian spot LNG prices to record levels this year.
Asian spot LNG prices declined in the meantime but they remain very high. The JKM for November settled at $38.195/MMBtu on Tuesday.