Spain's Balearia should soon take delivery of its LNG-powered fast ferry Eleanor Roosevelt following the completion of the vessel's first bunkering operation.
The Spanish ferry operator said the operation took place in the port of Gijon where shipbuilder Armon Gijon is finalizing the construction of the ship.
In addition, Balearia joined forces with ESK and Repsol for the first LNG supply to the vessel claimed to be the world's first LNG-powered fast ferry for passengers and cargo.
The vessel would now undergo gas trials, according to Balearia.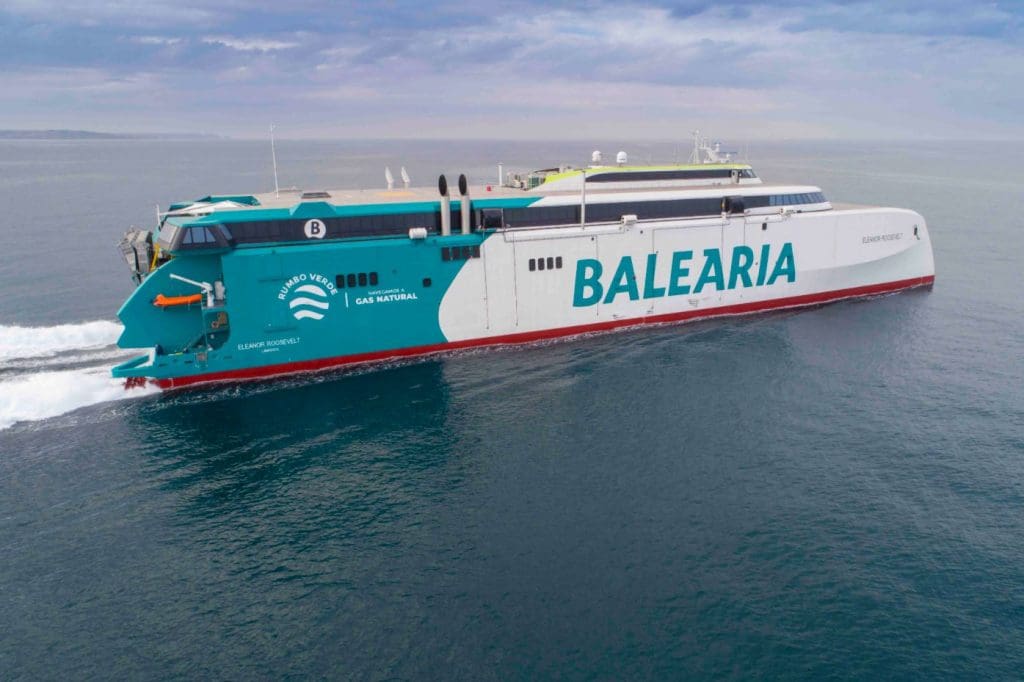 To remind, Balearia said in early March the firm had expected to take delivery of the vessel by the end of the previous month.
This means that the delivery has been slightly delayed. Balearia did not provide a new timeline when it expects Armon Gijon to hand over the LNG-powered ferry, but it would probably take place later this month.
The ferry features four Wartsila dual-fuel engines of 8,800kW each, allowing it to reach an operating speed of 35 knots.
Equipped with two LNG storage tanks, the twin-hull catamaran will have an autonomy to sail up to 400 nautical miles.
In the case of combined LNG/diesel propulsion, this increases to 1,900 nautical miles, the Spanish shipping firm says.
Furthermore, the Incat-designed ship is 123 meters long with a 28 meters beam. It will have a capacity to welcome 1200 passengers as well as 450 cars.
Balearia previously said it invested about 90 million euros ($105.8 million) in this "pioneering smart" ship. Along with four conversions, this is the third LNG-powered newbuild in its fleet.
The ferry operator plans to have a fleet of nine LNG-powered vessels by the end of 2021 with a total investment of 380 million euros.