Belgium-based Tree Energy Solutions (TES), backed by investment firm AtlasInvest, is looking to import both LNG and hydrogen via a planned hub in the German port of Wilhelmshaven.
The hydrogen firm said in a statement it aims to launch the "green hub" in 2025 instead of 2027 as part of a new plan aimed at meeting the German's government short-term and long-term energy requirements.
Germany has decided to back the construction of two LNG import terminals as the country looks to reduce dependence on Russian pipeline gas imports, Chancellor Olaf Scholz said on Sunday.
These projects include German LNG Terminal's regasification facility in Brunsbuettel and Uniper's LNG import and hydrogen facility in Wilhelmshaven. Uniper previously switched plans from LNG to hydrogen but the company is now considering to revive the project.
Besides these two projects, Germany's Hanseatic Energy Hub is also working on the Stade LNG import terminal near Hamburg.
First phase by winter 2025
"TES believes that its fully sustainable Wilhelmshaven project deserves at least the same if not stronger support compared to alternative traditional LNG terminal initiatives considering the concurrent climate crisis," Paul van Poecke, founder and managing director at TES, said.
TES previously only planned to build a hydrogen hub and it now included the LNG part as well.
"We are now planning further work to ensure an operational start of phase 1 by winter 2025 at scale," van Poecke said.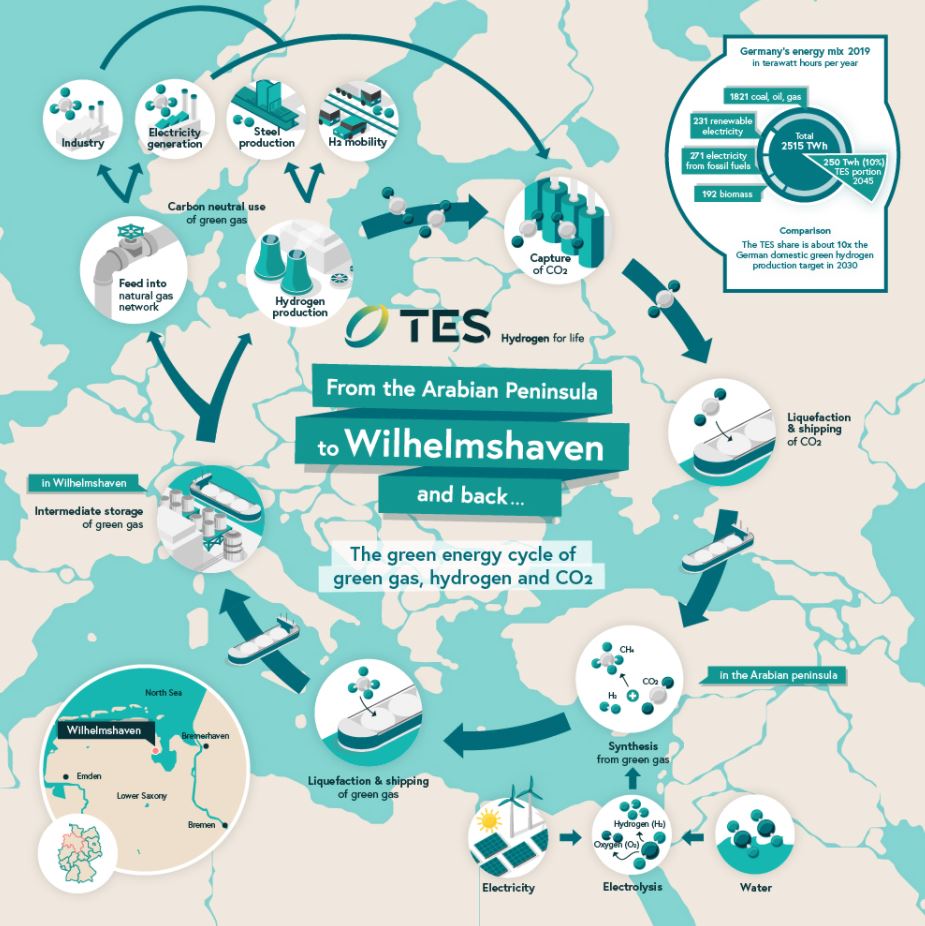 The company is planning to build six independent tanks combined with six ship berths using a "novel approach with minimal environmental and visual impact."
"In view of our planned full scale, we are also willing to constructively accommodate any alternative gas importers and still ensure third party access in line with current DG Energy regulations and practices," van Poecke said.
More than 5 million tonnes of hydrogen
TES said the green hydrogen would be primarily produced from solar, wind and hydro power in countries with "abundant renewable energy sources."
After that, CO2 would be added to make green methane which would be used as the "energy carrier."
TES would then transport the fuel to Wilhelmshaven utilizing a "specially constructed fleet of ships."
At Wilhelmshaven, the firm would convert the green methane back into green hydrogen. Also, the firm said it would capture the resulting CO2 and return it to the producing countries by ship in a continuous closed loop system.
In the initial phase of 25 TWh per year of green gas import, the Wilhelmshaven hub could receive more than half a million tonnes of hydrogen, according to TES.
This would rise to 250 TWh per year and more than 5 million tonnes of hydrogen in the final stage by 2045, TES said.