Global liquefied natural gas (LNG) imports rose by 2 percent in the first half of this year, boosted by demand in Europe, according to Cedigaz.
The France-based association said in a report that global LNG imports in the first half increased by 3.7 million tons of LNG year-on-year to 199.1 million tons.
European countries increased LNG imports by 4.2 Mt to 65.25 Mt in the first half, while Asian imports were flat at 124.61 Mt.
While Europe continued to increase LNG purchases in order to make up for the missing volumes of Russian pipeline gas, other regions showed relatively low appetite for LNG, Cedigaz said.
As the European "pull" for LNG persisted, global LNG imports structure has kept on shifting.
European share in global LNG imports reached 33 percent in H1 2023, while Asian fell to 63 percent, Cedigaz said.
European imports
Albeit Europe increased LNG imports in total, countries within the region showed quite a
diverse dynamic of the LNG imports in H1 2023, Cedigaz said.
France and Spain decreased LNG imports compared to the same period last year by 2 Mt and 1.5 Mt, respectively.
This can be explained by a very high basis of comparison (in H1 2022 both countries imported record volumes for the 1st half of the year), while French LNG imports were also affected by the strikes that blocked 3 out of 4 of the country's LNG import terminals in March 2023, Cedigaz said.
Germany and Netherlands together have added 5 Mt to the H1 2022 imports, thanks to new LNG import terminals launched in H2 2022 and H1 2023, including FSRUs in Germany which
allowed the country to start LNG imports in late 2022, and the Eemshaven FSRU-based terminal in the Netherlands, it said.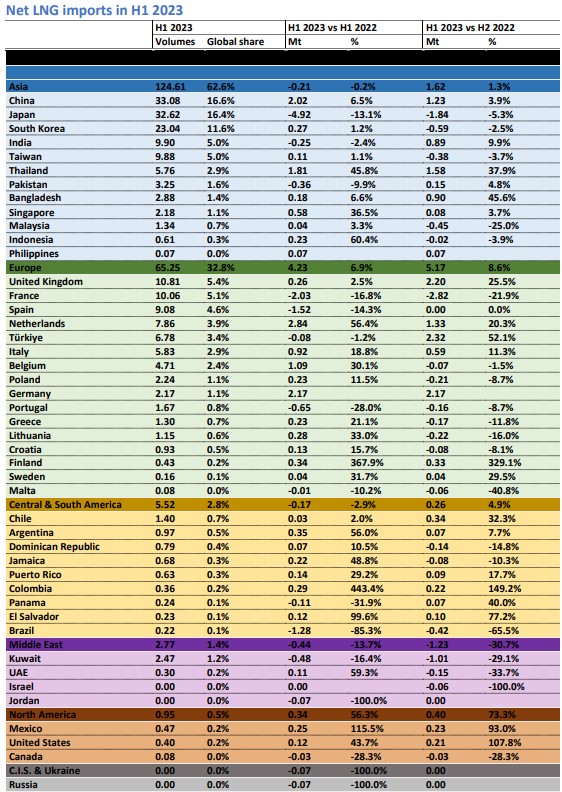 Russia remained the third largest supplier after US and Qatar
Despite the stated EU target to phase out Russian gas (including LNG), as well as the ongoing discussions within the EU on the possible sanctions against Russian LNG, in H1 2023 its supplies to Europe remained robust, at par with the record 2022 year, Cedigaz said.
In H1 2023, with a share of over 10 percent in the total region's LNG imports, Russia remained the third largest supplier to Europe after US and Qatar, it said.
Russian LNG supplies to Europe reached 7.6 Mt in the first half of this year.
However, compared to the pre-crisis levels of 2021, the share of Russian LNG in total European LNG imports has been trending down, primarily due to significant growth of LNG supply from other regions, firstly US, Cedigaz said.
In H1 2023, many EU members increased their reliance on Russian LNG, including Belgium,
Spain, Greece, as well as countries within the broader European region, namely Turkey, the association noted.
Other EU members decreased the procurement of Russian LNG, including the Netherlands and France.
Germany, the new important LNG importer in the region, albeit not having introduced
any formal sanctions against Russian LNG (contrary to the UK, for instance), has not imported a single Russian cargo since the start of its LNG imports history at the end of 2022, Cedigaz said.
Asian imports
Asian imports were flat, as muted rebound in LNG appetite from China and
spike in Thailand's demand were offset by Japan's imports drop, Cedigaz said.
Cedigaz said that South and South-East Asia showed mixed dynamic in H1 2023, as some price sensitive markets including India and Bangladesh reduced LNG procurement while others including Thailand, Singapore, and Bangladesh ramped up LNG imports in response to global gas markets' stabilization and the decrease in the spot LNG prices in 2023.
Thailand alone in H1 2023 increased LNG imports by stunning 1.8 Mt (+46 percent) to H1 2022, as the decreasing domestic production and lower pipeline gas imports from Myanmar, along with steady economic growth and a heatwave in April supported the rise in demand for LNG for power generation, it said.
Moreover, China showed a relatively modest revival of demand, having increased LNG imports by 6 percent (+2 Mt to 33.1 Mt).
In H1 2023 Chinese LNG imports were still well below the pre-crisis levels of LNG imports (over 39 Mt imported in each half of 2021), it said.
LNG imports by Japan fell by 4.9 Mt (-13 percent) amid milder than usual temperatures, healthy LNG stocks and higher nuclear output.
Given the rebound in the Chinese LNG imports and a weak demand from Japan in H1 2023, in 2023 China might restore its position as the leading LNG importer in the world, after having given the way to Japan in 2022, Cedigaz said.
South Korea and Taiwan increased LNG imports by a marginal 1 percent each in H1 2023 to H1 2022, it said.
Brazil and Middle East
Brazil, previously the key buyer in the region of Central & South America, imported just 0.2 Mt in H1 2023.
This is down by 1.3 Mt compared to H1 2022 (1.5 Mt) and much less compared to the
highs of 2021 (2.7 and 4.9 Mt in H1 and H2 2021), as the increased hydroelectric generation in 2022-2023 has allowed the country to significantly cut on costly LNG imports, Cedigaz said.
The key Middle East importers, Kuwait & UAE, lowered imports by 0.3 Mt due to a drop in
Kuwait's demand, where high availability of fuel oil limited gas usage in the power sector, it said.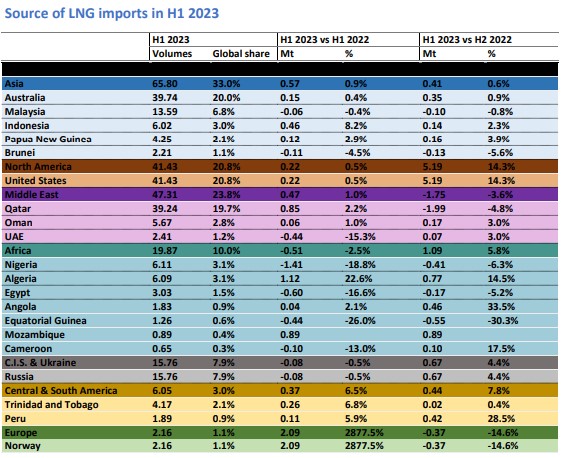 US regained its status of leading LNG exporter
The US regained its status of leading LNG exporter in the first half of this year after the Freeport plant resumed its operations after the outages in H2 2022.
As of H1 2023 the US LNG exports reached 41.4 Mt and accounted for 21 percent of global supply, Cedigaz said.
Australian and Qatari LNG exports reached 39.7 Mt and 39.2 Mt, respectfully, Cedigaz data shows.
The three market leaders – US, Australia and Qatar – together represented 60 percent of the global supply, it said.
In H1 2023 due to the restart of Equinor's 4.2 Mtpa Snohvit LNG plant, Norway provided the key contribution to the growth of global LNG supply (+2.1 Mt), it said.
The second largest increase in LNG supply on the country-level basis was observed in Algeria (+1.1 Mt), which managed to increase feedgas availability among robust growth of LNG demand from European buyers, Cedigaz said.
The other African exporter, Mozambique, which had joined the exporters club in late 2022 after the launch of the 3.4 Mtpa Coral South FLNG, supplied 0.9 Mt of additional volumes, it said.
Moreover, the combined growth of exports from Algeria and Mozambique (+2 Mt) was fully offset by the decrease in supplies from other African exporters – Nigeria and Egypt.
Nigeria lowered its LNG exports by 1.4 Mt due to security issues with the oil and gas infrastructure, lack of investments and declining associated natural gas production at the oilfields in the country, Cedigaz said.
Egypt had to lower LNG supply by 0.6 Mt as the feedgas availability dropped among growing domestic natural gas demand and slowing gas production from legacy fields, it said.