CNH Industrial's New Holland Agriculture has launched what it says is the world's first LNG-powered tractor prototype.
According to a statement issued by CNH on Friday, the multinational firm unveiled the T7 Methane Power LNG pre-production prototype tractor at its tech day event in Phoenix, Arizona, USA.
CNH says that a farm's carbon footprint is a "major factor in determining its sustainability" while farmers still "need powerful tractors that can run around the clock".
"Natural gas, and especially biomethane, are presently the ideal solutions to guarantee higher horsepower machine performance, while also lowering emissions and reducing operating costs," it said.
The T7 Methane Power LNG would more than double the autonomy compared to a CNG design whilst boosting overall farm sustainability, CNH claims.
"In comparison to the T6 Methane Power CNG, this is a fourfold increase in fuel capacity. LNG is also a key facilitator for the expansion of CNH Industrial's broader future natural gas portfolio, particularly towards larger and heavier agricultural equipment, as well as construction equipment," the firm said.
With its 270hp, the T7 Methane Power LNG pre-production prototype delivers the same power and torque as a diesel tractor while delivering autonomy without the need for any extra tanks, it said.
CNH said this premiere is the first step towards serial production and commercialization of the world's first LNG tractor, complementing New Holland's existing T6 Methane Power and CNH Industrial's wider alternative power portfolio.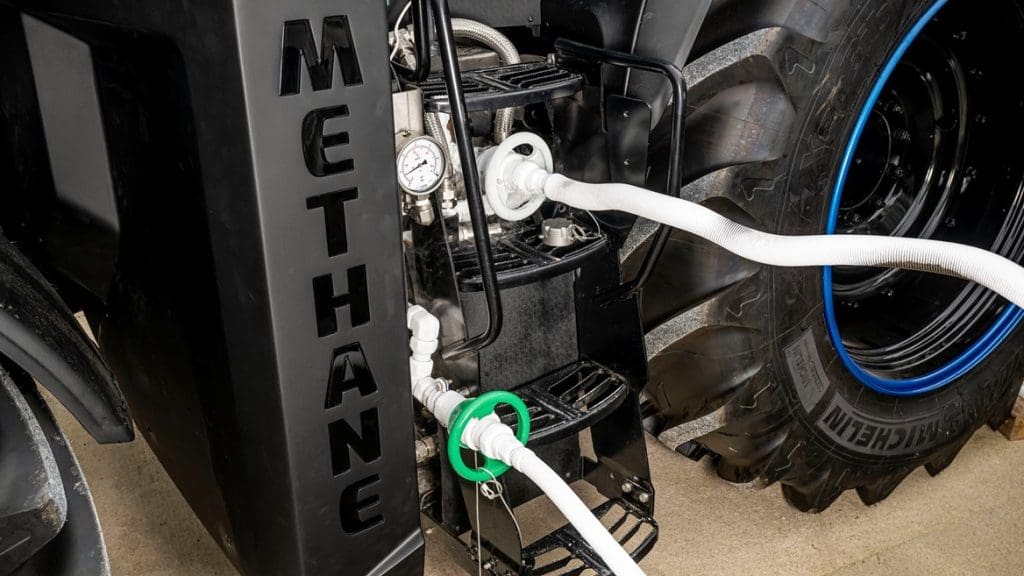 Partnership with Bennamann
To spearhead this latest development, CNH said it partnered with Bennamann, a UK-based expert in solutions to capture and repurpose fugitive methane emissions for energy use.
Their work together began in March 2021, when CNH acquired a minority stake in Bennamann, its research, development, engineering and manufacturing arm.
"Bennamann's multi-patented approach prevents methane from entering the atmosphere (methane is more than 80 times more harmful to global warming than CO2 when measured over 20 years) by ultimately converting it into liquefied fugitive methane (LFM) for use as a 'better than zero carbon' biofuel," the firm said.
This solution can "significantly" reduce the carbon footprint of an average dairy farm by preventing the direct emission of methane from slurry lagoons and tanks, as well as providing a range of additional benefits, CNH claims.
These include reducing the use of CO2 intensive chemical fertilizers, the displacement of fossil fuel use in tractors, electricity generation and heat provision, and a reduction in the need for slurry spreading.
The CO2 reduction for a 120-cow farm is potentially equivalent to around 100 western households, according to CNH.