Croatia's first and only FSRU-based LNG import terminal on the island of Krk has welcomed the 19th LNG shipment since the start of operations in January this year.
The 2018-built 180,000-cbm SK Resolute, chartered by TotalEnergies, docked at the 140,000-cbm FSRU on Wednesday, according to the state-owned operator LNG Croatia.
This shipment is the last cargo of 2021 for the Krk facility. The FSRU has in total received 19 large LNG carriers or more than 2,7 million cubic meters of LNG, LNG Croatia said.
LNG Croatia did not reveal the source of this latest shipment but SK Resolute's AIS data provided by VesselsValue shows that the vessel previously picked up the cargo at Cheniere's Sabine Pass plant in Texas.
SK Resolute also visited Desfa's LNG import terminal located on the island of Revithoussa in Greece, the data shows. It probably delivered a partial cargo to the Greek facility before heading to Krk.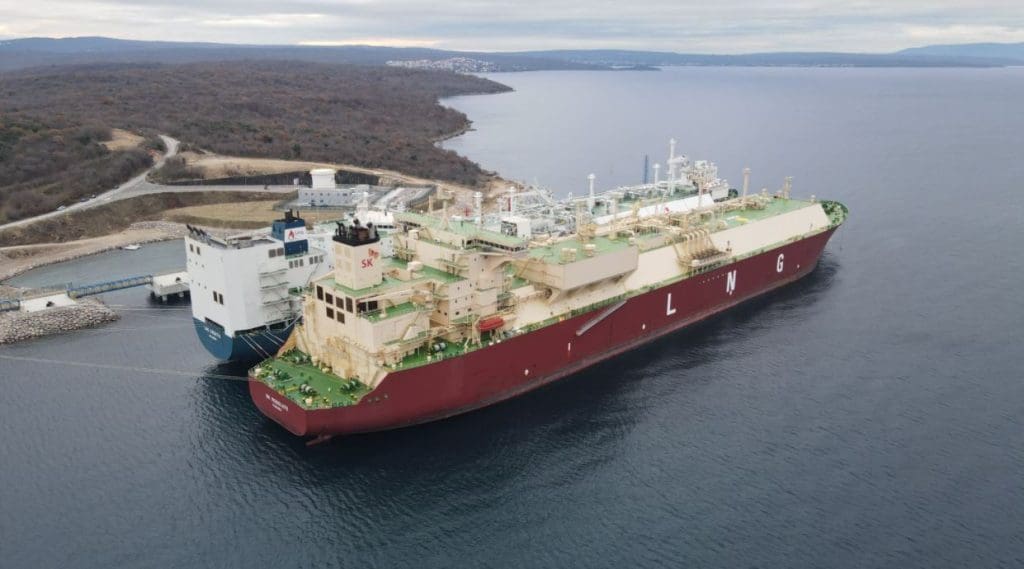 Including this cargo, the Croatian FSRU received in total eleven US LNG shipments since the start of operations.
It also received two cargoes from Qatar and Nigeria, each, and one each from Trinidad and Tobago and Egypt. The FSRU took one cargo each from the Zeebrugge and Dunkirk facilities as well.
Croatia's first LNG terminal has the capacity to send up to 2.6 bcm per year of natural gas into the national grid.
MET, Hungary's MFGK, and Qatar's PowerGlobe have booked almost all of the volumes at the Krk facility for the next three years.