Greece received 13 liquefied natural gas cargoes in the first quarter of this year via the LNG terminal on the island of Revithoussa, with the majority of volumes coming from the US and Egypt, according to DESFA.
The shipments in January-March totaled 9.51 terawatt hours, a rise of 5.43 percent when compared to the same period last year, the Greek gas grid and LNG terminal operator said.
DESFA's Revithoussa terminal received 21 vessels in the first quarter of the last year and the regas volume totaled 9.02 TWh.
Greek LNG imports via the Revithoussa terminal surged to record 78 LNG cargoes in 2022 due to significantly higher volumes from the US, while the facility is fully booked for 2023.
Last year, DESFA chartered GasLog's 2006-built LNG vessel, Methane Lydon Volney, to serve as a floating storage unit at the Revithoussa facility, and it also launched a truck loading station as it works on an integrated small-scale LNG supply chain in Greece.
Greece's Mytilineos, Blue Grid, and other firms have recently completed the first truck loading operations at the terminal.
US and Egypt
The US remained the largest LNG supplier to Greece with a 41.8 percent share of all LNG imports in the quarter under review, DESFA said.
The deliveries from US liquefaction plants to Greece reached 3.98 TWh in the first quarter, down 3.2 percent compared to 4.11 TWh in the same period last year.
On the other hand, deliveries from Egypt rose 132 percent to 2.51 TWh, while the rest of the LNG volumes came from Algeria (1.46 TWh), Russia (1.05 TWh), and Spain (0.51 TWh).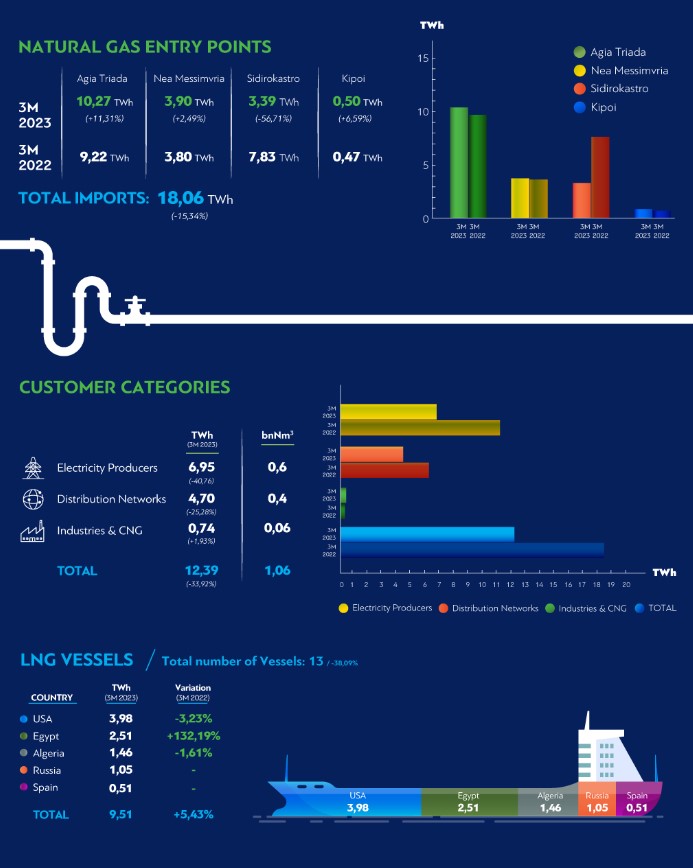 The company said that 54.9 percent of all imported gas to Greece in the quarter, including pipeline gas, came via the Revithoussa terminal.
Total gas imports amounted to 18.06 TWh, a drop of 15.3 percent from the same period last year.
DESFA said the domestic consumption of natural gas decreased significantly by 33.9 percent, reaching 12.39 TWh in the first quarter.
However, exports remained at high levels and amounted to about 5.68 TWh, marking a more than double increase compared to the corresponding quantity in the first quarter of 2022, it said.